What is Philanthropy?
© 2016
Philanthropy is synonymous with American history, principles, and culture; yet it remains an evolving and largely misunderstood topic. What is Philanthropy? seeks to holistically and comprehensively enhance our understanding of giving and its role in American culture and society.
This film takes a holistic view of this important subject by presenting its historical context with contemporary issues and including various perspectives from a wide variety of stakeholders.
Through multiple formats, this film is appropriate for  the general public, high school students and higher education institutions. The power of visual learning is well documented by research, and this film will serve as a tool that parents, teachers, professors and instructors of all types can use to holistically convey what role philanthropy plays in our lives. Footage is shot from all regions of the United States, and it presents multiple viewpoints and perspectives from a broad array of participants. 
Format specifications:
Available in Streaming, Blu-Ray and DVD

86 minutes

20 segments accessible through the scene selection menu

4 special features

Subtitles in English (SDH), Spanish, French and Mandarin

Individual use and public use licenses available
The value and use of this documentary is evident by some of the more than 300 institutions, and growing, in 13 different countries that own a copy:
Queensland University of Technology, Brisbane, Queensland – Australia

McGill University, Montreal, Quebec – Canada

Yale University, New Haven, Connecticut – United States

American University of Sharjah, Sharjah – United Arab Emirates

Arkansas State University, Jonesboro, Arkansas – United States

De La Salle-College of Saint Benilde, Manila – Philippines

Middlesex Community College, Bedford, Massachusetts – United States

University of Johannesburg, Auckland Park – South Africa

Kalamazoo Community Foundation, Kalamazoo, Michigan – United States

Universitat Rovira, Tarragona – Spain

Lexington Theological Seminary, Lexington, Kentucky – United States

Flower Mound Public Library, Flower Mound, Texas – United States

Universidad de Puerto Rico, San Juan – Puerto Rico

San Francisco Public Library, San Francisco, California – United States

Victoria University of Wellington, Wellington – New Zealand

University of North Dakota, Grand Forks, North Dakota – United States

Indiana University, Bloomington, Indiana – United States
How to Purchase This Film
Join the growing list of 300+ institutions that have purchased What is Philanthropy?
Click here for a Library Recommendation Form
Click here for a free educator's guide that teachers and instructors can use with their courses
Film Festival Official Selections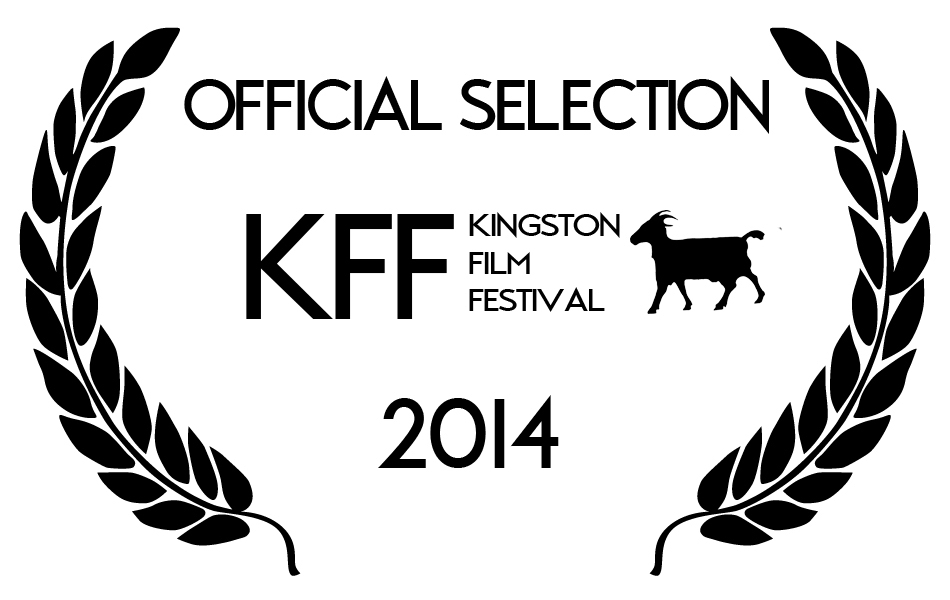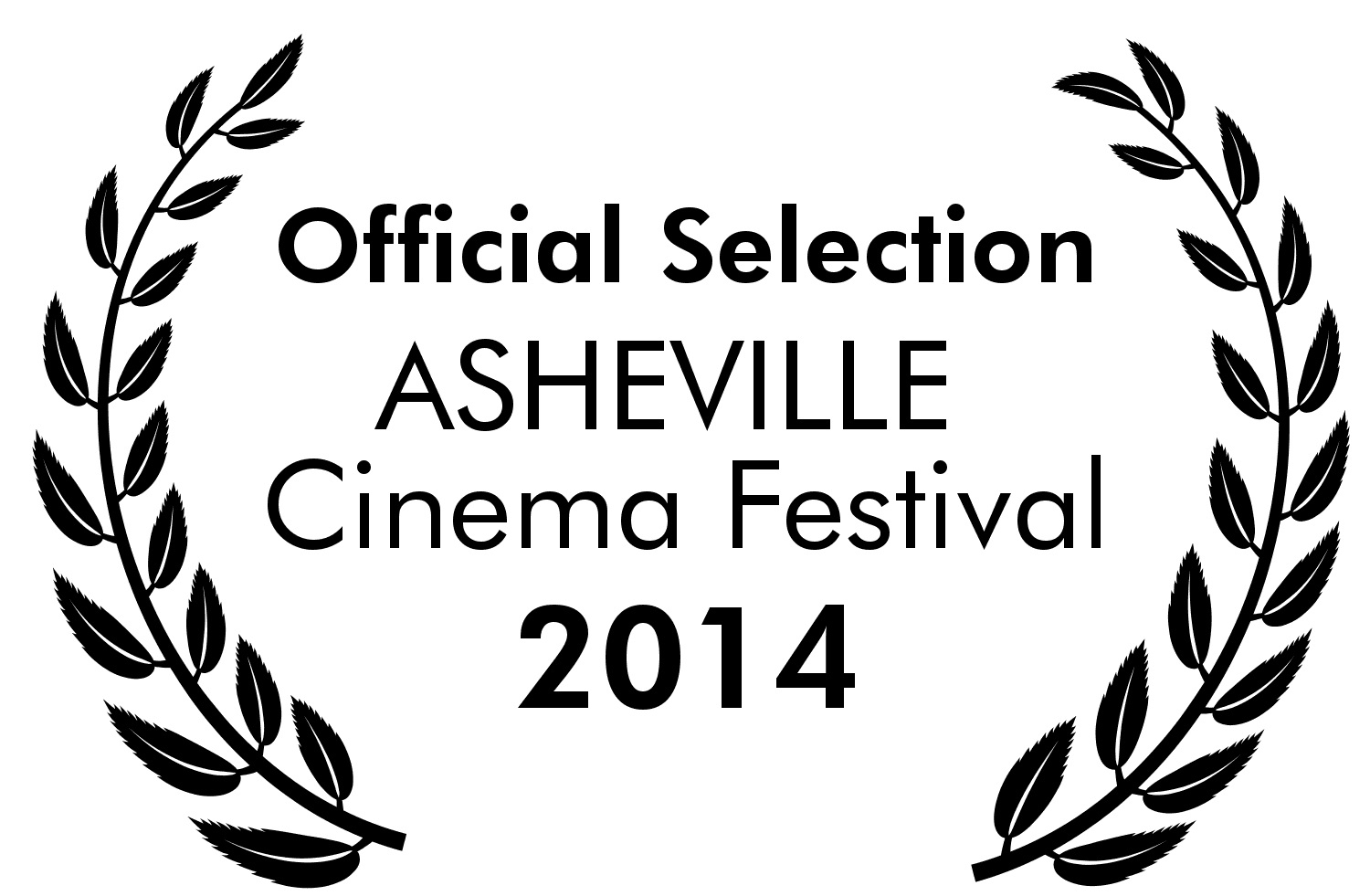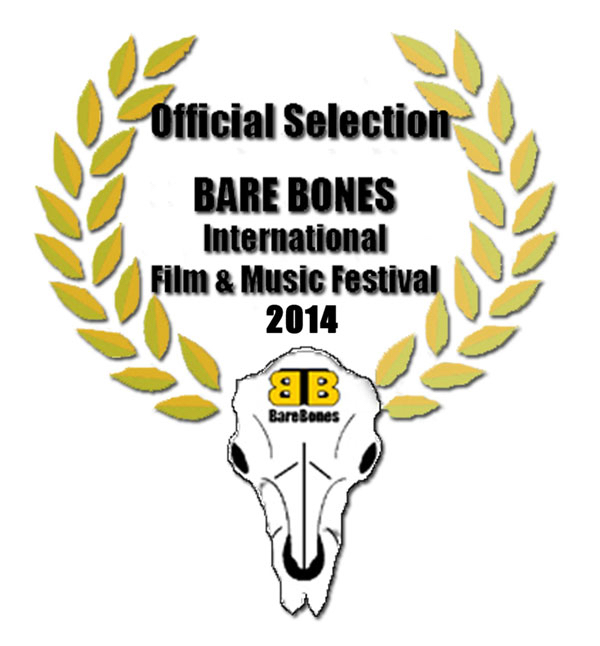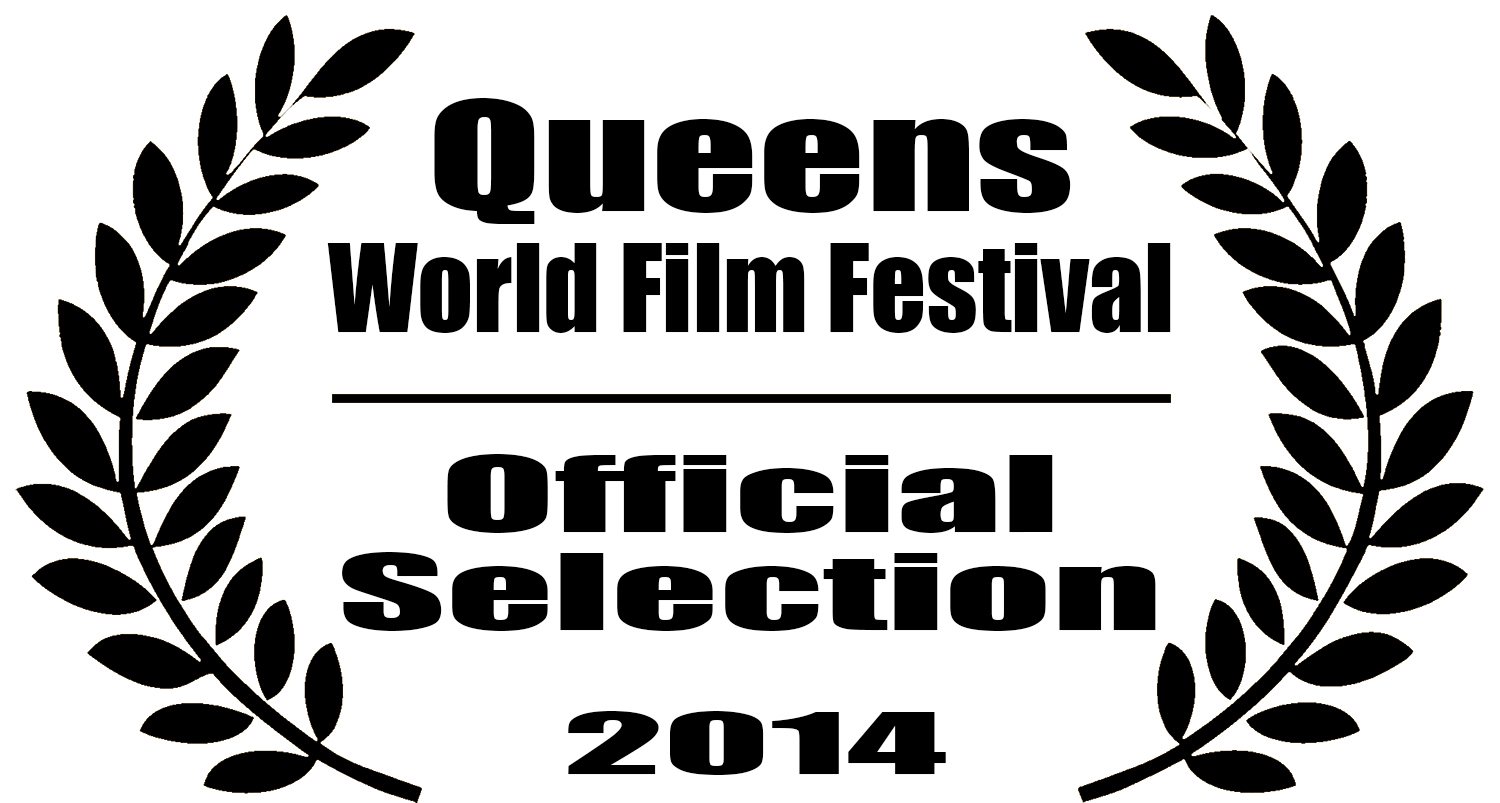 Reviewed In
Journal of Nonprofit Education and Leadership, Volume 5, Number 1, pp. 37-39, 2015, by Cedric Adderley, Capital University
Journal of Public Affairs Education, Volume 23, Number 1, pp. 653-655, 2017 by Ashley Nickels, Kent State University.
Video Librarian, January/February 2018, p. 58 by Frank Swietek, University of Dallas
"I had the honor of attending your film. I was impressed. First, with the magnitude of the project and then because philanthropy was presented with a diverse, inclusive and broad focus. I wish you well as you share the film with others and create an appreciation for the importance and influence of philanthropy in our society."
– Michele Kimmel-Fors, Executive Director of Compass, Encompass
"When I walked into my locker room and I looked around the league and through all the different sports, you saw the number of people trying to do good, trying to give back. It's a great thing, you know, and we're all trying to figure it out. It's why I think this film is a great idea."
– Alex Smith, Retired NFL quarterback
"Your film will complement the teacher developed and tested K-12 lesson plans of Learning to Give, a supporting organization to the Council of Michigan Foundations, and provide needed content for the discussion at the higher education level about the valuable role that philanthropy plays in our American culture and now globally. College students can benefit from these stories as they consider career choices and how to best use their time and talent as well as financial resources to make a difference in a cause they care about."
– Robert S. Collier, Former President of Council of Michigan Foundations
"The Nonprofit Academic Centers Council (NACC) is pleased to endorse and support the What is Philanthropy? documentary. By providing a holistic view of the field, What is Philanthropy? is sure to be an essential portion of philanthropic study, education and global citizenship. On behalf of the NACC, it is our belief that this film will have a lasting effect on the community as well as the field of philanthropy."
– Nonprofit Academic Centers Council
"I am pleased to endorse the documentary entitled What is Philanthropy? I can envision it being an important teaching/learning tool for many different audiences. We need such a documentary to provoke more critical and engaged discussions about philanthropy in America and around the globe."
– Dr. Dwight Burlingame, Director of Academic Programs, Lilly Family School of Philanthropy at Indiana University
"At Lisa M Dietlin & Associates we stand behind philanthropic efforts, and your film has demonstrated the concept of philanthropy and its role in American culture and society at the highest level."
– Lisa M. Dietlin, President & CEO of Lisa M Dietlin & Associates
"I see many uses for this documentary: in formal high school, college and graduate level studies; tools for organizations such as the United Way, community foundations and giving circles to use with prospective donors and constituents; and through nonprofit, and foundation sector professional development programs. I met Mr. Alaimo at the start of his Ph.D. program at Indiana University and I am pleased to see him take on this bold documentary project."
– Jill Kramer, Associate Vice President for Planning and Grants, Ivy Tech Community College
"This is a very important project because philanthropy is poorly understood by the general public, by the media, by policy makers in government, and by much of the business community. Philanthropy plays a critical role in our society in connection with our most important issues – in healthcare, education, the arts, social services, international development, the environment and many other fields – and in the proper functioning of our democracy through advocacy and citizen participation. I think this will be a very valuable as well as entertaining product and an educational resource, and I urge its support."
– Dennis Young, Professor Emeritus, Georgia State University and Visiting Professor, Jack, Joseph and Morton Mandel School of Applied Social Sciences, Case Western Reserve University
"What is Philanthropy? is a useful film that faculty may use to educate students and professionals about the important and complex role of philanthropy in our society."
– Greg Lindsey, Associate Dean, Hubert H. Humphrey Institute of Public Affairs, University of Minnesota
"As a developing area of academic study and one of the fastest growing segments of the U.S. economy, a documentary capturing a holistic portrayal of philanthropy would serve as an important asset to the field. While the average citizen if often the target of requests for giving, there are few opportunities for this person to gain an understanding of the complex, multifaceted world of philanthropy, the nonprofit sector and volunteerism. The documentary undertaken by Dr. Alaimo helps inform the consumer and educate the potential donor."
– Sarah Jane Rehnborg, Associate Director, RGK Center for Philanthropy and Community Service, University of Texas at Austin
"As a faculty member to teaches nonprofit management to graduate students I can tell you that this film will go a long way to fulfilling a need in today's discourse relating to the nonprofit and philanthropic sector. Through this film, Dr. Alaimo and his colleagues explore the many faces of philanthropy, highlighting its enormous contributions as well as its dark side. I am certain that this film could go a long way to changing the way that we, as a society, engage in charitable giving and public service."
– Joanne Carman, Associate Professor, University of North Carolina-Charlotte
"Unlike most Western European nations, the U.S. relies on philanthropy to provide social safety net support and wide range of arts educational and recreational activities. Yet, probably most people in our society (and especially young people) are mostly unaware of the extent and variety of activities that philanthropy supports. Many people have heard of the foundations of a few wealthy individuals, but their giving represents only a small portion of philanthropy. This documentary helps provide a more thorough picture of who gives, why, to what activities and with what effects."
– Robert Herman, Professor Emeritus, University of Missouri-Kansas City
"Representing American initiative, independence and a cultural preference for nongovernmental approaches, philanthropy at the same time (and to its own detriment) been mythologized and over-idealized so that profound misunderstandings exist about its actual nature, origins and reasons for being. Dr. Alaimo's documentary enlightens us about what philanthropy actually is and does, and what it can and cannot contribute to our individual and social well being."
– Susan Ostrander, Professor of Sociology, Tufts University
"Philanthropy is not well understood by policy makers or the general public. This film helps address that problem. A thorough and honest portrayal of the strengths and shortcomings of philanthropy is just what the doctor ordered."
– Aaron Dorfman, Executive Director, National Committee for Responsive Philanthropy
"It is a subject that Sal understands particularly well, and one that students at all levels, community leaders and servants, and the general public would benefit from learning more about. The time is right for a project of this nature, and Sal is the right person to lead it."
– Richard Gunderman, Vice Chairman, Department of Radiology, Indiana University School of Medicine
"Dr. Salvatore Alaimo has the background and knowledge to produce a film that can be used as an educational tool for students of all ages and the general public. It is a project that allows us to better understand ourselves as well as the importance of philanthropy in the past, present, and future."
– Nancy Marie Roberston, Associate Professor of History and Philanthropic Studies, Indiana University-Purdue Inversity, Indianapolis (IUPUI)
"Viewers will be motivated to take action as volunteers and advocates as they learn from the examples of people around the country touched by need. We are eager to touch more young people through the vision of this inspiring documentary."
– Betsy Peterson, Executive Director of Learning to Give
"Your film is an excellent example of a teaching resource that improves student understanding and is desperately needed in the field. It is absolutely necessary to go beyond the written word to capture the interest and imagination of students, and this film is clearly of the quality that is required by today's tech savvy generation. I use this material in my class at Texas A&M University and recommend it to my peers as they prepare the next generation of leaders in philanthropy."
– William Brown, Associate Professor & Director of the Nonprofit Management Program at Texas A&M University
"As your film makes clear, there is no one form of philanthropy and no one definition, but we must have the discussion because there is so much misinformation and ignorance about the subject. We in the nonprofit sector are truly negligent of telling our story well."
–Marc Hardy, Former Director of Nonprofit Executive Programs, Mendoza College of Business at the University of Notre Dame
"I teach and research about philanthropy and can therefore confidently attest to the importance of this work. There is great need for a resource that explains, plainly and powerfully, the varied meanings and motivations of giving and volunteering. This documentary is an invaluable learning tool in colleges and universities for students and faculty alike."
–Ramya Ramanath, Assistant Professor, School of Public Service at the DePaul University
Salvatore Alaimo, Ph.D. – Executive Producer
Professor Alaimo teaches the nonprofit management courses in the School of Public, Nonprofit and Health Administration at Grand Valley State University. He earned his Ph.D. in Philanthropic studies from Indiana University and his M.S. in Urban Studies / Nonprofit Management from Georgia State University. Salvatore has worked in nonprofit organizations for nine years and consulted for nonprofits for eight years. Some of his publications include the book chapters Contracting out in the Handbook of Research on Nonprofit Economics and Management, Nonprofits and Evaluation: Managing Expectations from the Leader's Perspective in The Jossey-Bass Reader on Nonprofit and Public Leadership, and Quality Improvement in Volunteer Administration: Professional Practice. He has also published journal articles in New Directions for Evaluation, Grant Professionals Association Journal,  Journal of Nonprofit Education and Leadership, International Journal of Community Well-being, and several entries in The International Encyclopedia of Civil Society.
Interviews with the Producer
Cynthia Kay – Associate Producer
Cynthia Kay founded Cynthia Kay and Company media production after working in broadcasting. As a professional broadcaster, she was honored with awards from United Press International, the Associated Press and numerous regional and local broadcast awards. A graduate of Michigan State University, Kay holds a Masters in Communications from Western Michigan University. She is the Past Board Chair of the Small Business Association of Michigan (SBAM), Chairs the SBAM Political Action Committee and serves on the National Small Business Association (NSBA) Board.  Cynthia was honored as One of West Michigan's 50 Most Influential Women in 2006, 2008, 2010 and 2012.
Jason Woods – Editor
Jason Woods is now Promotions Manager at Wood-TV 8, in Grand Rapids, Michigan. He has been a part of the production industry for more than a decade, working in roles from voiceover production to non-linear editing. He got his start in an audio production studio housed in an old chicken coop (yes, you read that right) before moving on to TV production, and later promotion, at WOOD-TV 8 in Grand Rapids, MI. Jason edited this documentary while working for for Cynthia Kay Media Production While there, he edited a range of  short-form promos up to long-form documentaries. He is thankful to no longer work in a chicken coop.
Michael Daly – Videographer
Mike Daly is a staff photojournalist at WAGA Fox 5 in Atlanta, Georgia who has 26 years experience. He also worked for eight years as a videographer for the US Army Reserve, including three terms served in Iraq. Mike has earned four Southeastern Regional Emmy awards for his work in the categories of Continuing Coverage, Spot News Coverage, Technological Achievement, and Television Craft Excellence.
James Schaub – Videographer
James Schaub is a Communications System Technician and Adjunct Professor who teaches film and video editing and effects at Grand Valley State University. He brings 16 years experience in the field of film and video production as a producer, editor, writer, camera operator and technical adviser to this project, and has produced corporate, documentary, non-profit, and educational films. James recently completed production of a documentary called "Up From the Bottoms: The Search for the American Dream", a story about African American migration to Muskegon in the 1940's and beyond, featuring Emmy award winning actress and humanitarian Cicely Tyson as narrator. He has worked on three documentary films that have aired on PBS and also has a video in the permanent collection of the Metropolitan Museum of Art in New York City.
David Peterson – Editor
David Peterson is owner of STONE BRIDGE Productions LLC, a full-service video production and post production company, since 2005.  His most recent work is the documentary, Great Lakes Chronicles. He has 16+ years of film and video production experience in many capacities including documentary storytelling, editing of corporate, and recruitment videos, and broadcast TV programs and many commercials.  David has won a regional Emmy, Silver Telly, Golden Cine, People's Choice and Addy award for his work.
David Patton – Videographer
David Patton served as cameraman for several shoots including Mike Farrell and Alex Smith.  He is a filmmaker who has been writing and directing award-winning films for over a decade. David is currently a full-time editor at Bunim/Murray Productions, the company behind the smash hits Keeping Up with the Kardashians, Project Runway and The Real World, among many others. He also works as an editor full-time for Funny or Die, recently editing comedy pieces featuring Christina Applegate, Dylan McDermott, Tim Meadows, Jeffrey Tambor, Judd Nelson, and Donald Glover. David wrote and directed the short films Harrison Bergeron, UpFlush, Warehouse 10, and the award-winning short films Buford the Bulland J.C. He has lent his talents to feature film productions Fast & Furious (Universal), Offspring(Sam Raimi's Ghost House Pictures), and the award-winning feature documentary Up From the Bottoms: The Search for the American Dream. David also has worked for television shows 24(Fox) and CSI: Miami (CBS).
Michael Elzinga – Videographer
Michael Elzinga is employed at Ideology, a creative video production agency in Grand Rapids, Michigan.  He formerly ownedColortrack Productions, a small video production company also in Grand Rapids, Michigan. He received his Bachelor's degree in Film and Video Production from Grand Valley State University. He aspires to make videos exploring human nature and the stories of everyday people because he believes that everyone's story is important and worth telling.
Aaron Bannasch – Videographer
Aaron Bannasch is a graduate of Grand Valley State University's Film and Video program. Before being hired as a cameraman, Aaron contributed substantially to this documentary through his editing work at GVSU's Digital Studio.  He is currently continuing his education at GVSU, pursuing a Masters in Communications. He spends most of his time helping others share their stories, in turn helping himself craft his own. A few samples of Aaron's work can be found at http://vimeo.com/bannasch.
Jennifer Fritz – Videographer
Jennifer Fritz is the co-founder and co-owner of AJ Media Services LLC,  a full service, professional video production company in the Nashville, Tenessee area.  Some of their clients include the Mendoza College of Business at University of Notre Dame, Nashville Jewish Film Festival and Sound Kitchen Studios.  Jennifer began her career as a sports camera operator working at the First Union Center in Philadelphia for the Sixers, Flyers and Wings.  She has also worked in various areas of video production for FOX, WYBE, Trump Taj Mahal in Atlantic City, MBC & Associates, Opryland, and the Nashville Film Festival.
Bryan Sarkinen – Videographer
Bryan Sarkinen is a freelance Director of Photography. He is a graduate of New York University with a joint degree in Film Production and Journalism. At NYU he created the movie review show "The Inside Reel" that aired on college networks nationwide. Since then, he has produced a range of projects, from documenting rap star P. Diddy's world travels to documenting children in Bangladesh, Yemen and Burkina Faso for the United Nations Population Fund documentary "Too Brief a Child: Voices of Married Adolescents." Bryan's work has been featured on Court TV's "Under Fire," CNBC's "The Oprah Effect," HBO's "Le Cirque: A Table in Heaven," and in the 2011 documentary "Page One: A Year Inside the New York Times." Bryan can be found at his company.
Spencer Herzog – Audio Post and Mix
Spencer Herzog founded Creative Sound Concepts in 1982 after nearly 10 years of working in marketing and promotions for MCA and ABC Records.   Creative Sound Concepts is a full service audio production and postproduction facility with extensive experience in television, documentaries, radio, film, multimedia, corporate communications and audio for the Internet. Spencer has mixed television series, documentaries and live sporting events including the Super Bowl and the Olympics for International broadcast.
Chad Terpstra – Colorist
Chad has shot nearly half a dozen feature films and over 100 short films, commercials, music videos and documentaries. He started by receiving a BA in fine art and communications from Calvin College with an introduction to film by Compass Film Academy in 2002. Since then he has followed his passion into the camera department, working as an assistant and operator on feature films while shooting and grading projects on the side. He has shot around the globe, received numerous awards, and has had both narrative and documentary work honored at leading international film festivals.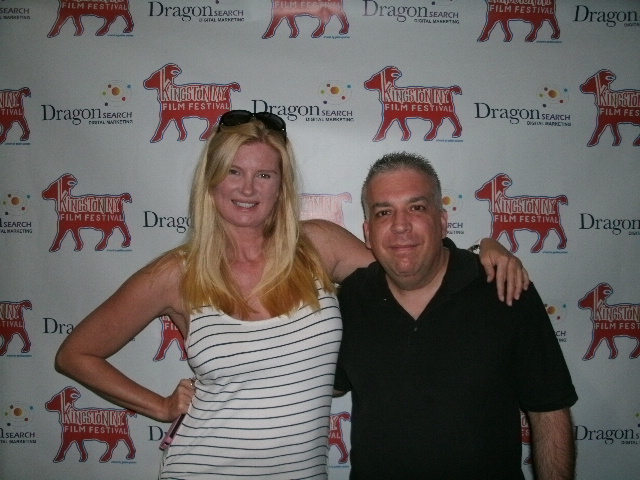 Producer Alaimo with KFF organizer Astrid Cybele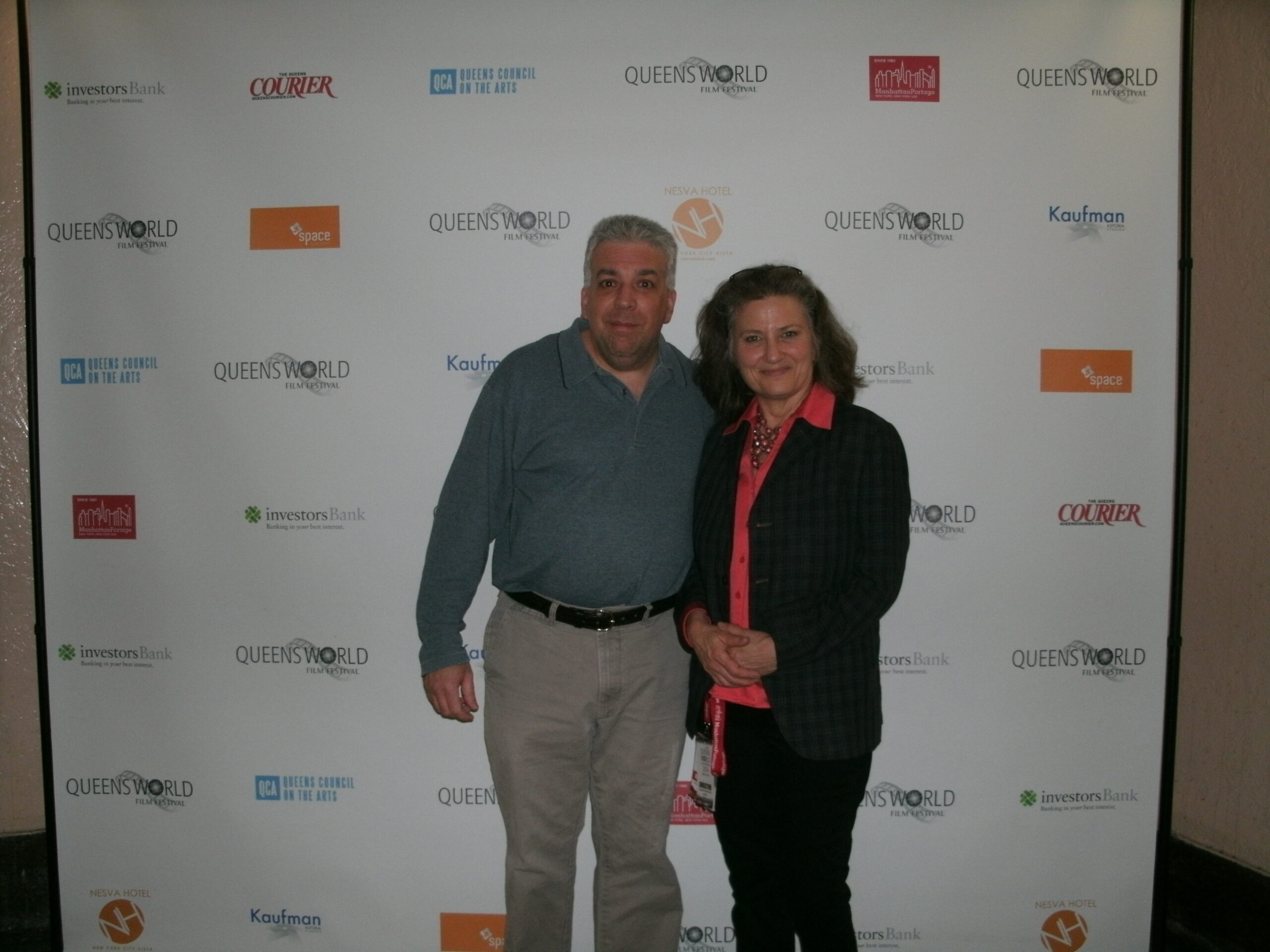 Producer Alaimo with QWFF organizer Katha Cato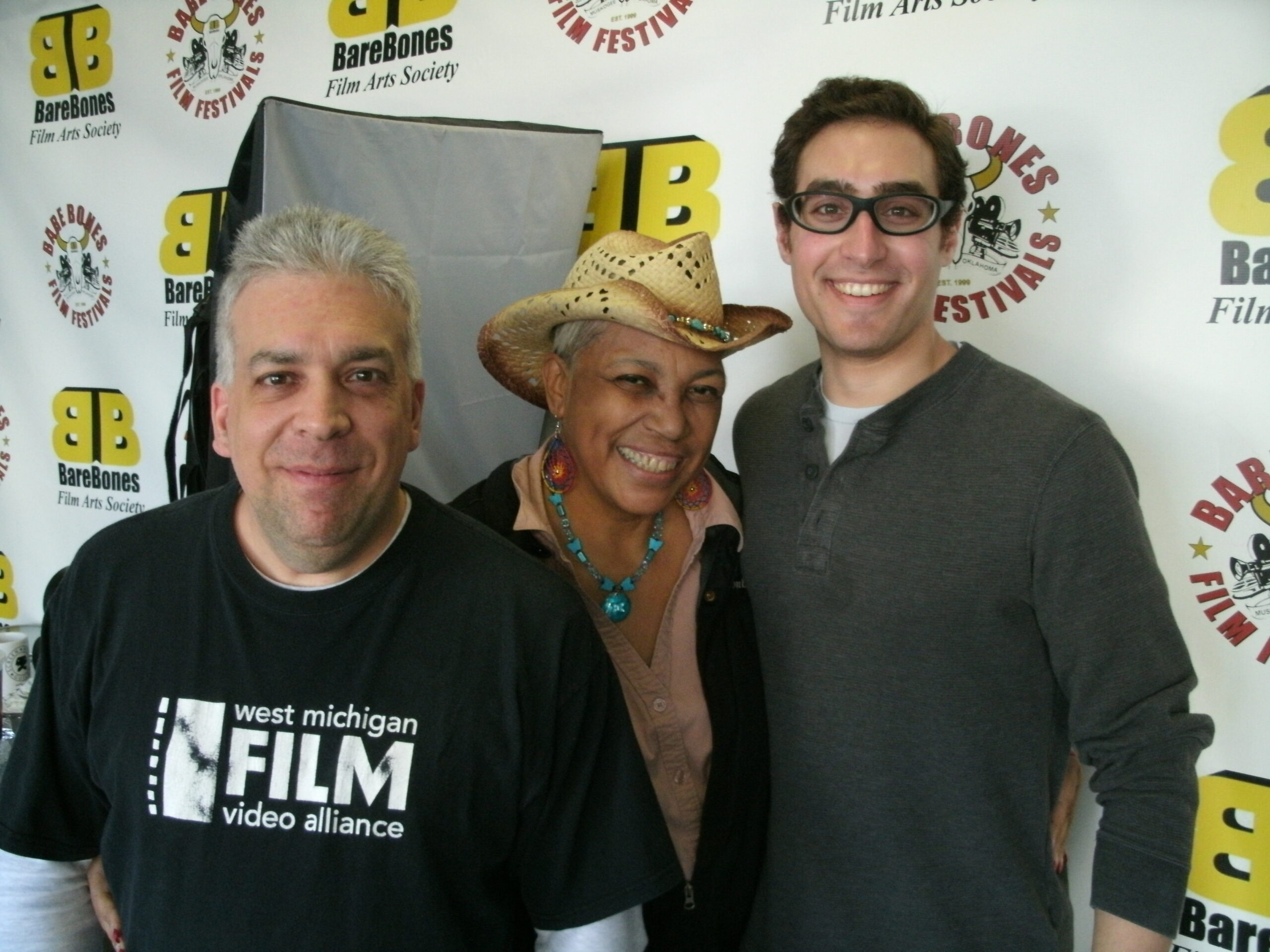 Producer Alaimo, Festival founder Shiron Butterfly Ray, Videographer Aaron Bannasch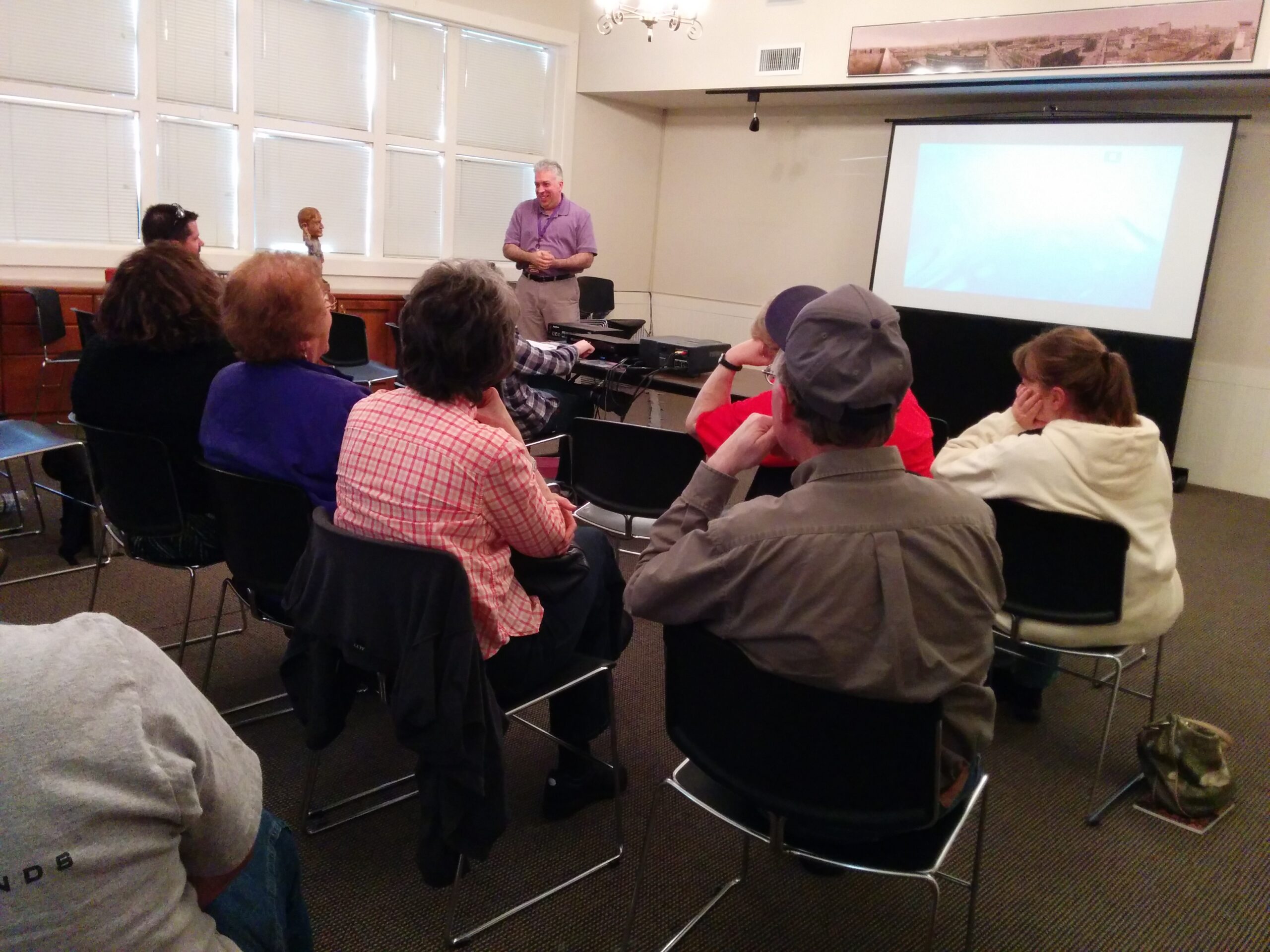 Bare Bones Q&A at Three Rivers Museum, Muskogee, OK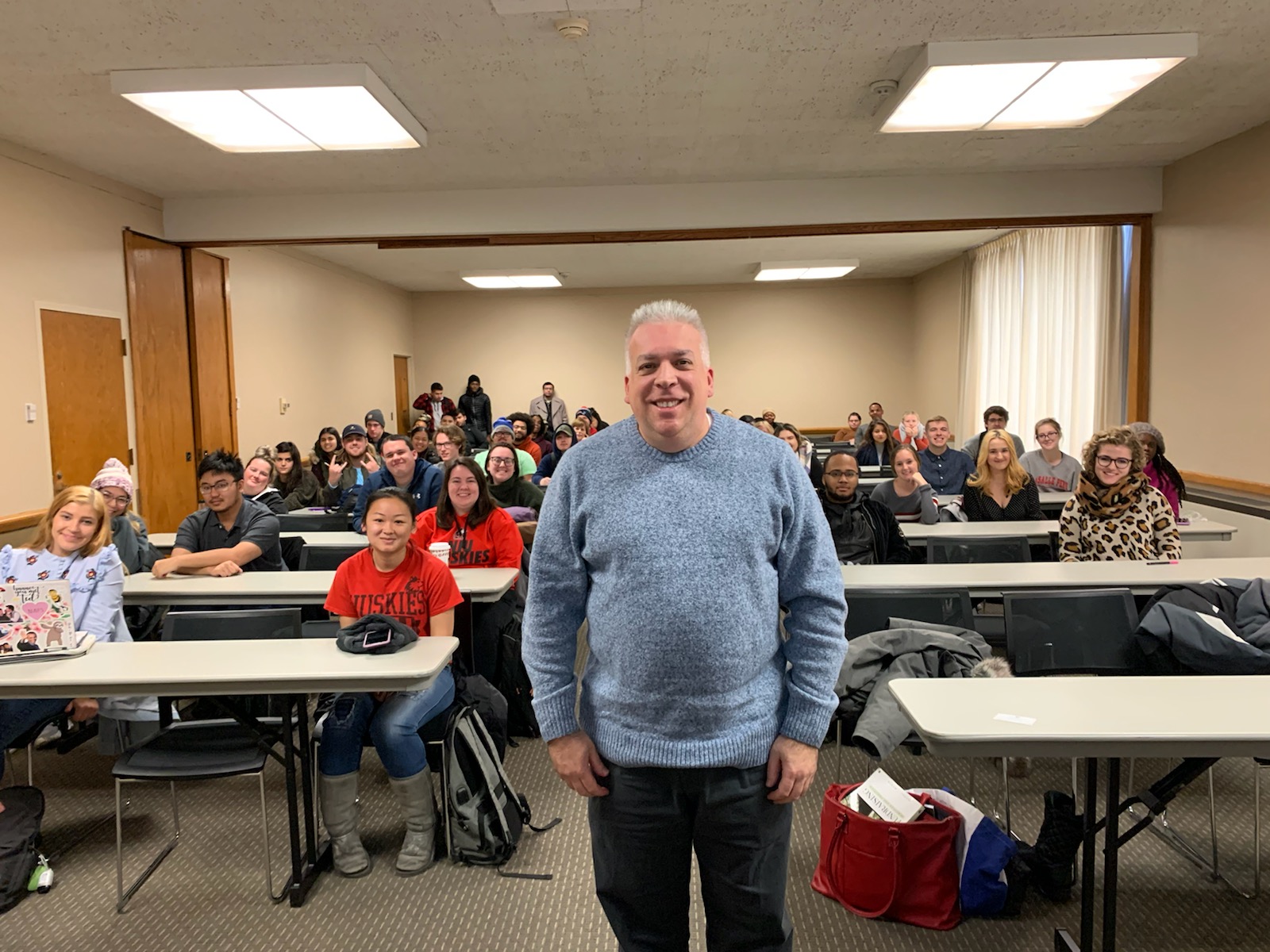 Northern Illinois University
DeKalb, Illinois
November 14, 2019
Attendance: 42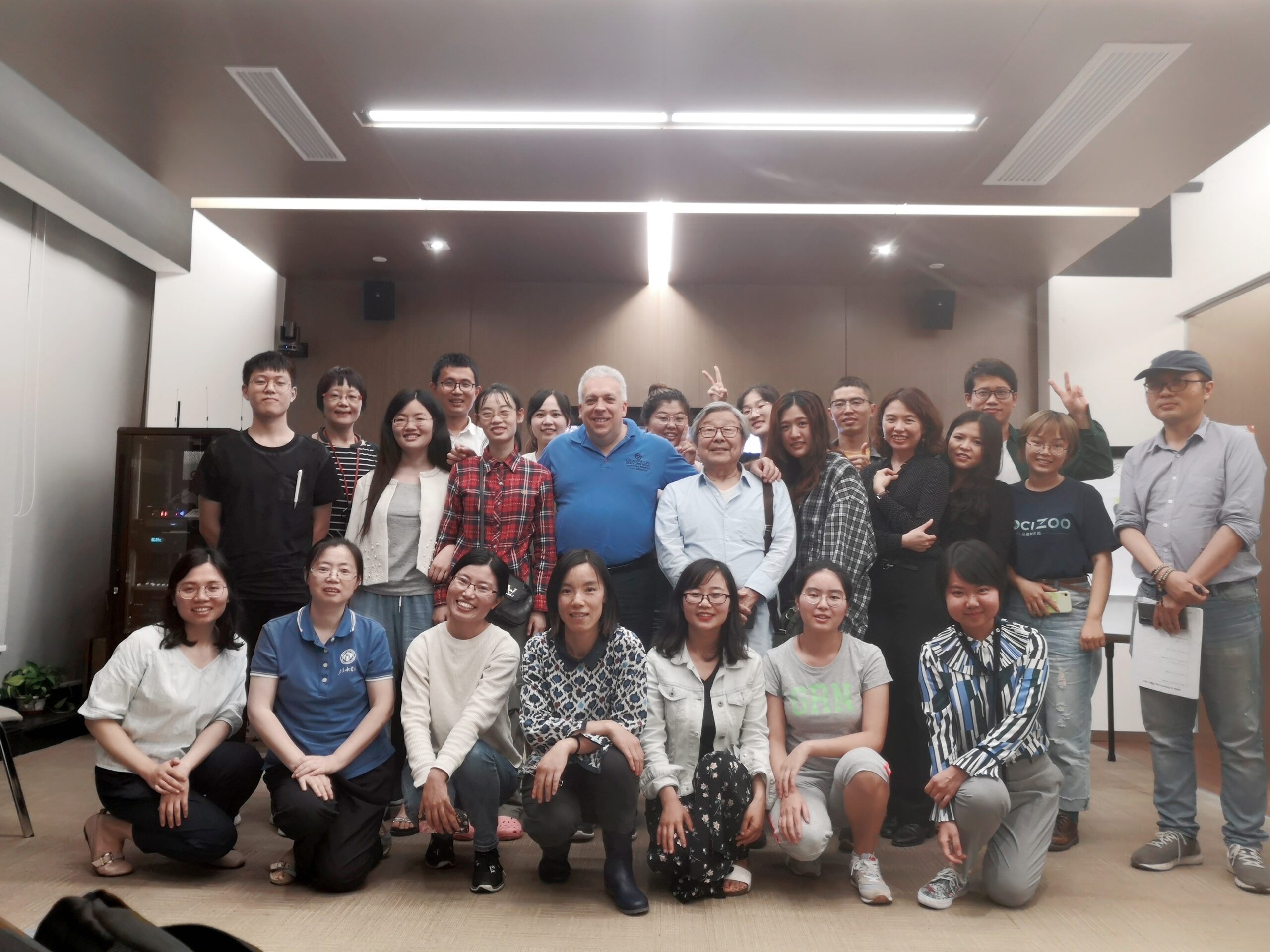 Zijiang Foundation
Shanghai, China
July 10, 2019
Attendance: 25
Audience group shot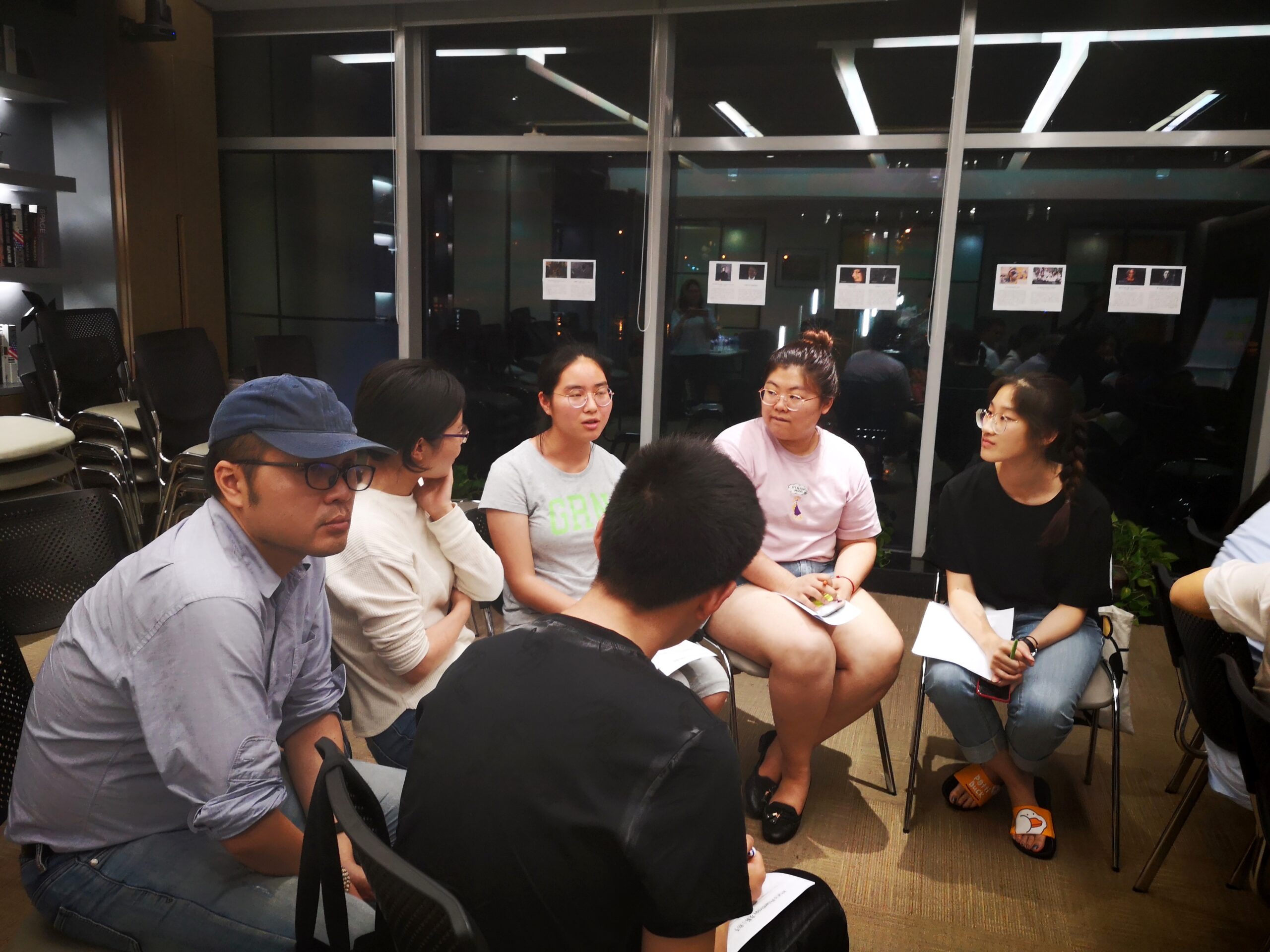 Zijiang Foundation
Shanghai, China
July 10, 2019
Attendance: 25
Post-screening group discussion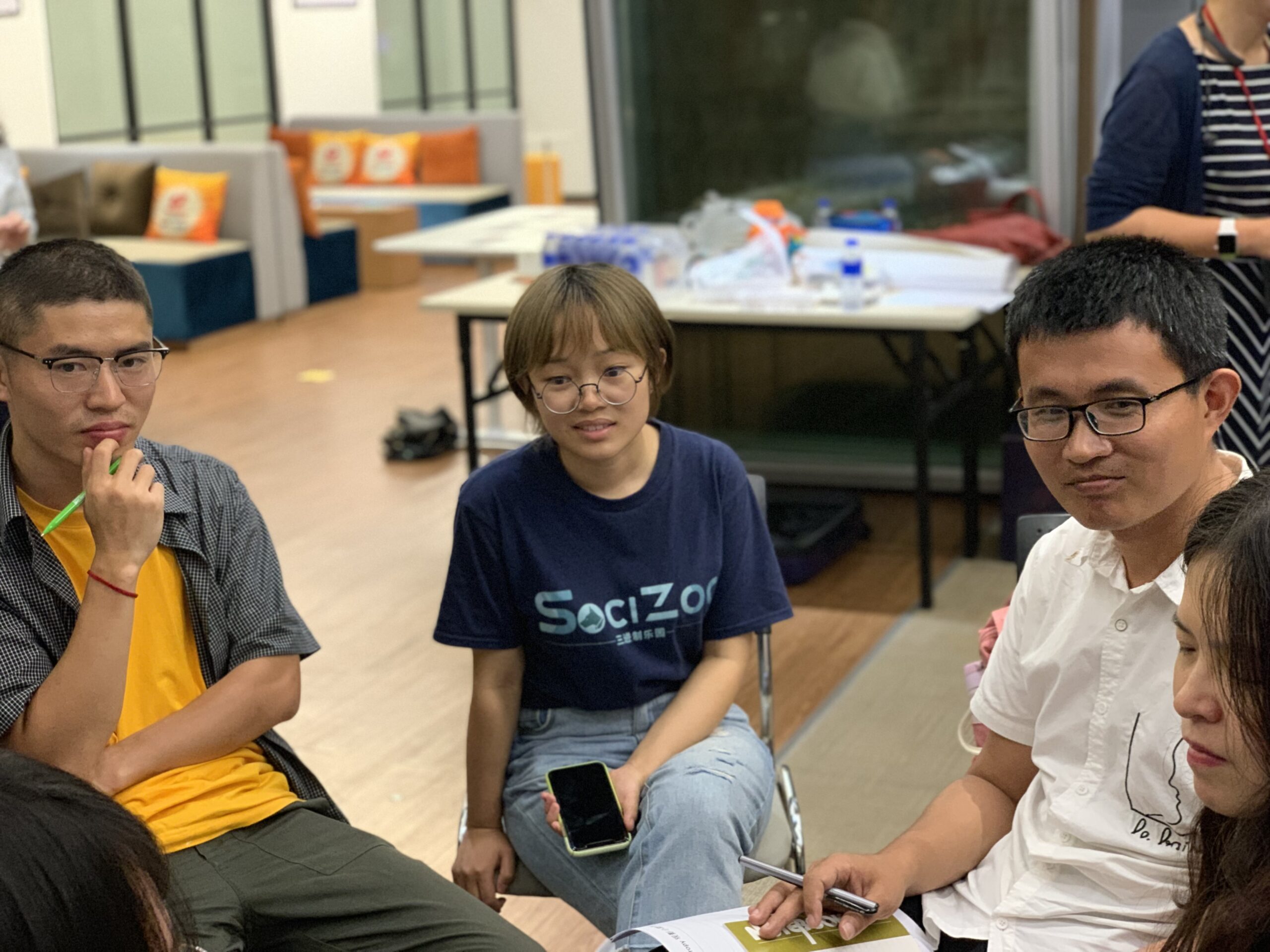 Zijiang Foundation
Shanghai, China
July 10, 2019
Attendance: 25
Post-screening group discussion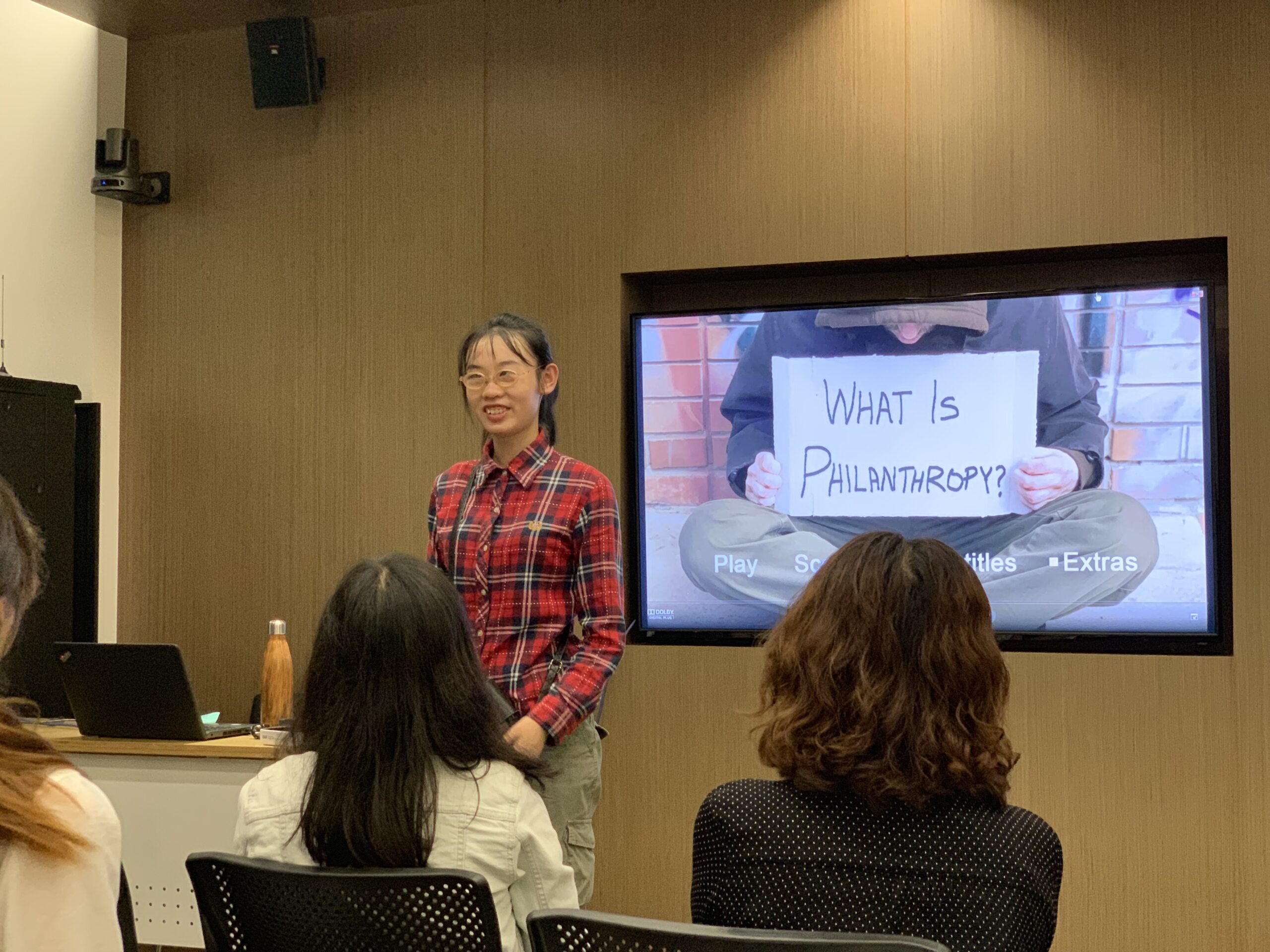 Zijiang Foundation
Shanghai, China
July 10, 2019
Attendance: 25
Lingjun Zhu reflecting on the film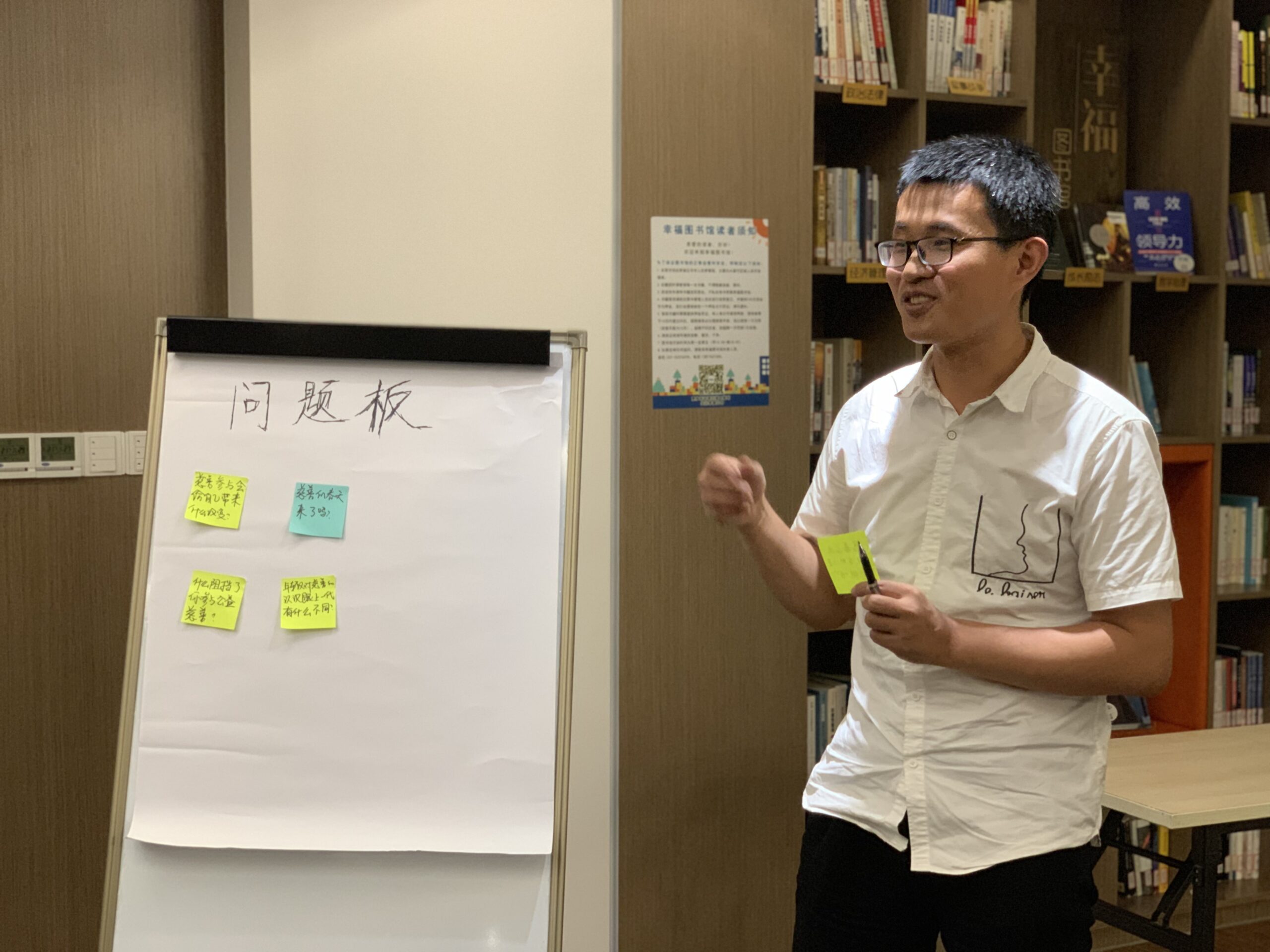 Zijiang Foundation
Shanghai, China
July 10, 2019
Attendance: 25
Shuliang Zhao posting a question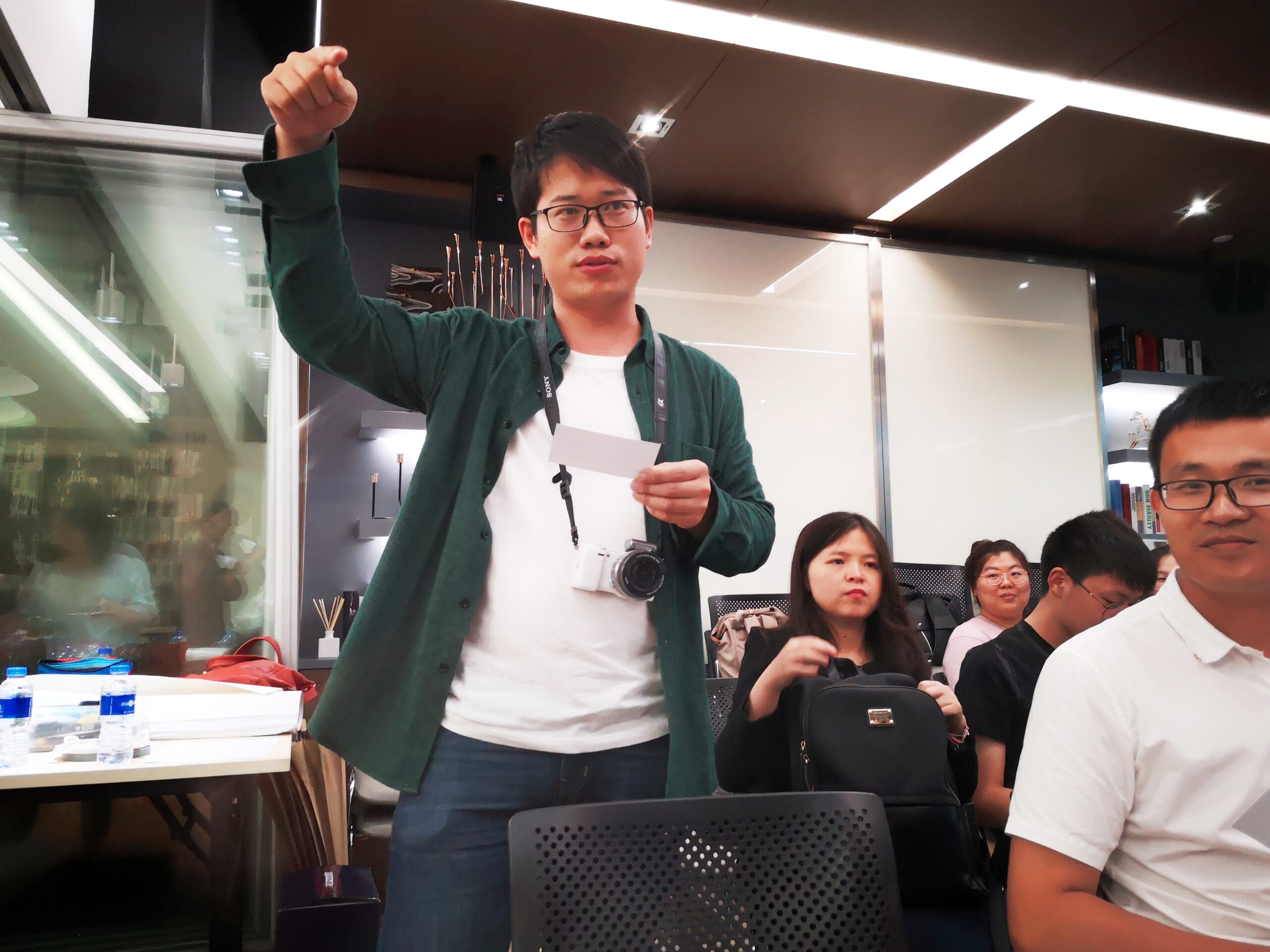 Zijiang Foundation
Shanghai, China
July 10, 2019
Attendance: 25
Tao Chen offering up insights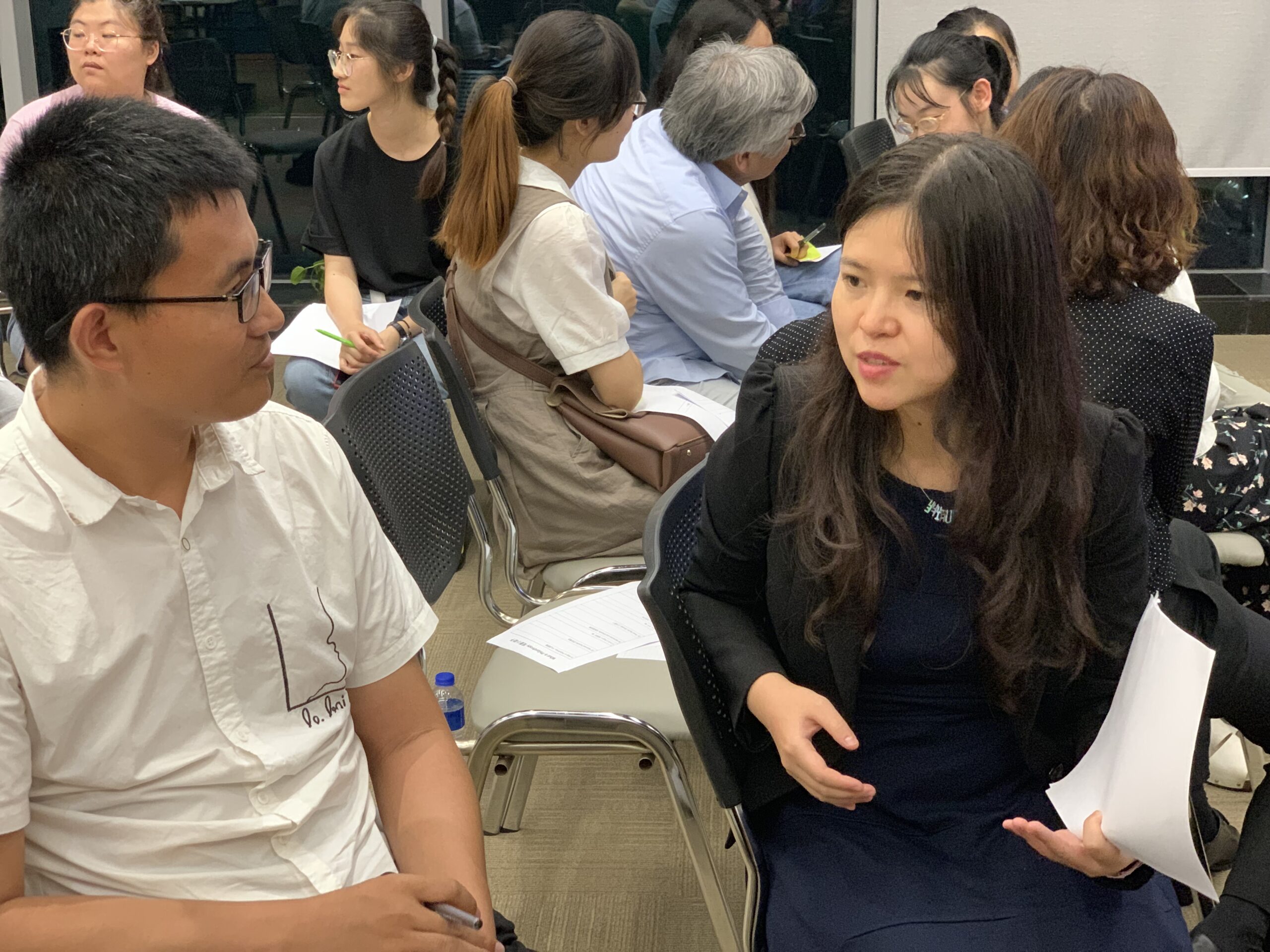 Zijiang Foundation
Shanghai, China
July 10, 2019
Attendance: 25
Xirui Wang (r) from ExxonMobil Asia Pacific sharing thoughts with Shuliang Zhao (l)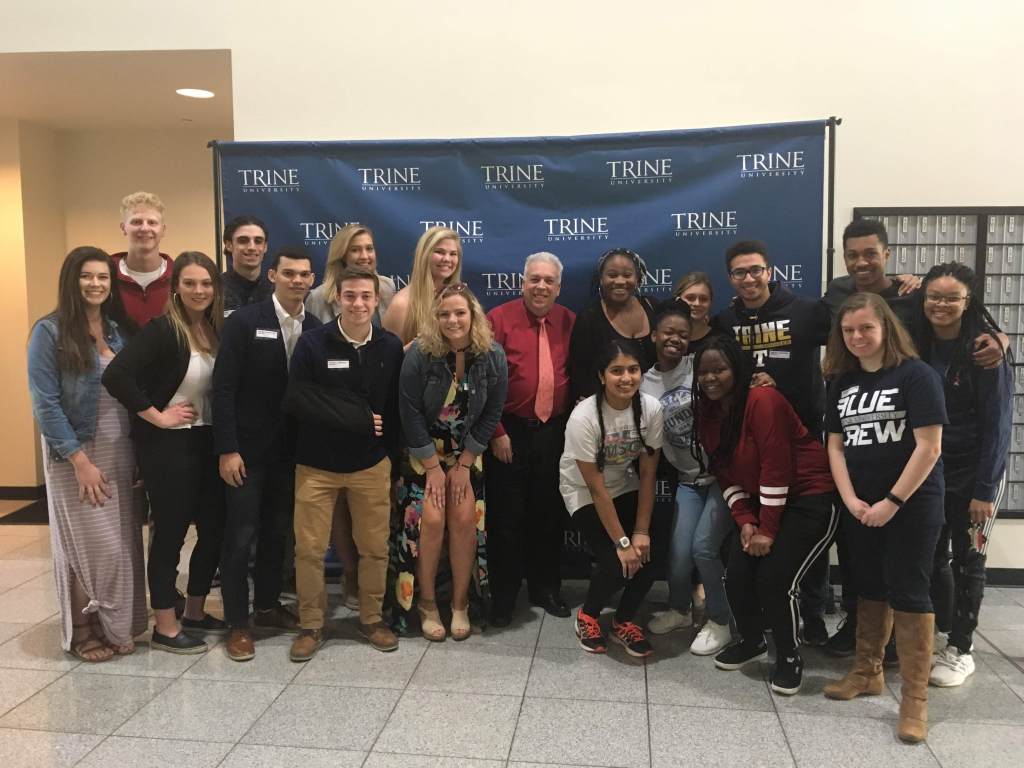 Fabiani Theatre at Trine University
Angola, Indiana
March 27, 2019
Attendance: 91

Producer Alaimo with Trine University students

University of Pennsylvania
Philadelphia, Pennsylvania
November 27, 2017
Attendance: 28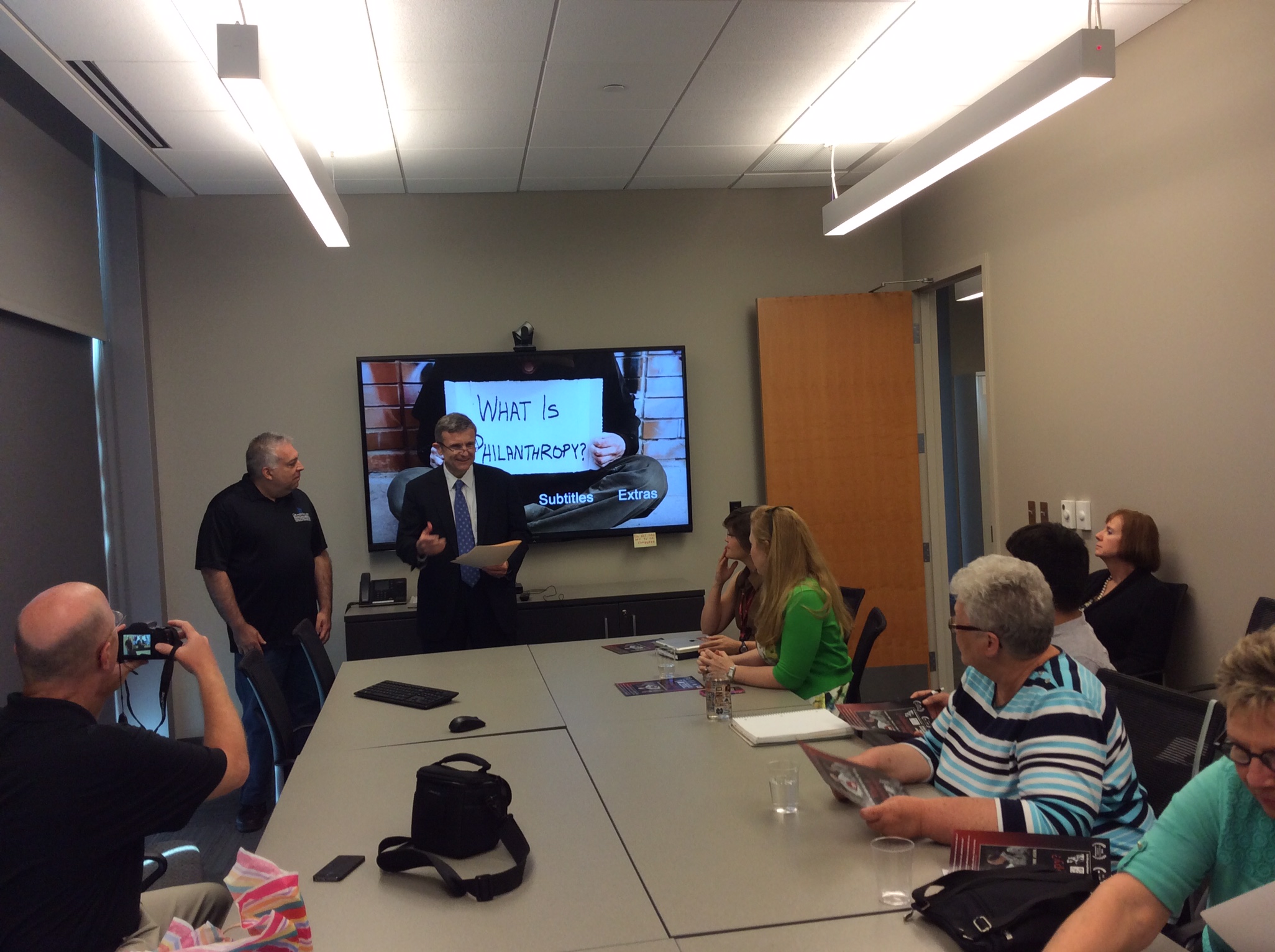 Lilly Family School of Philanthropy, Indiana University-Purdue University Indianapolis
Indianapolis, Indiana
July 14, 2016
Attendance: 18
Dean Amir Pasic of the Lilly Family School of Philanthropy introduces producer Alaimo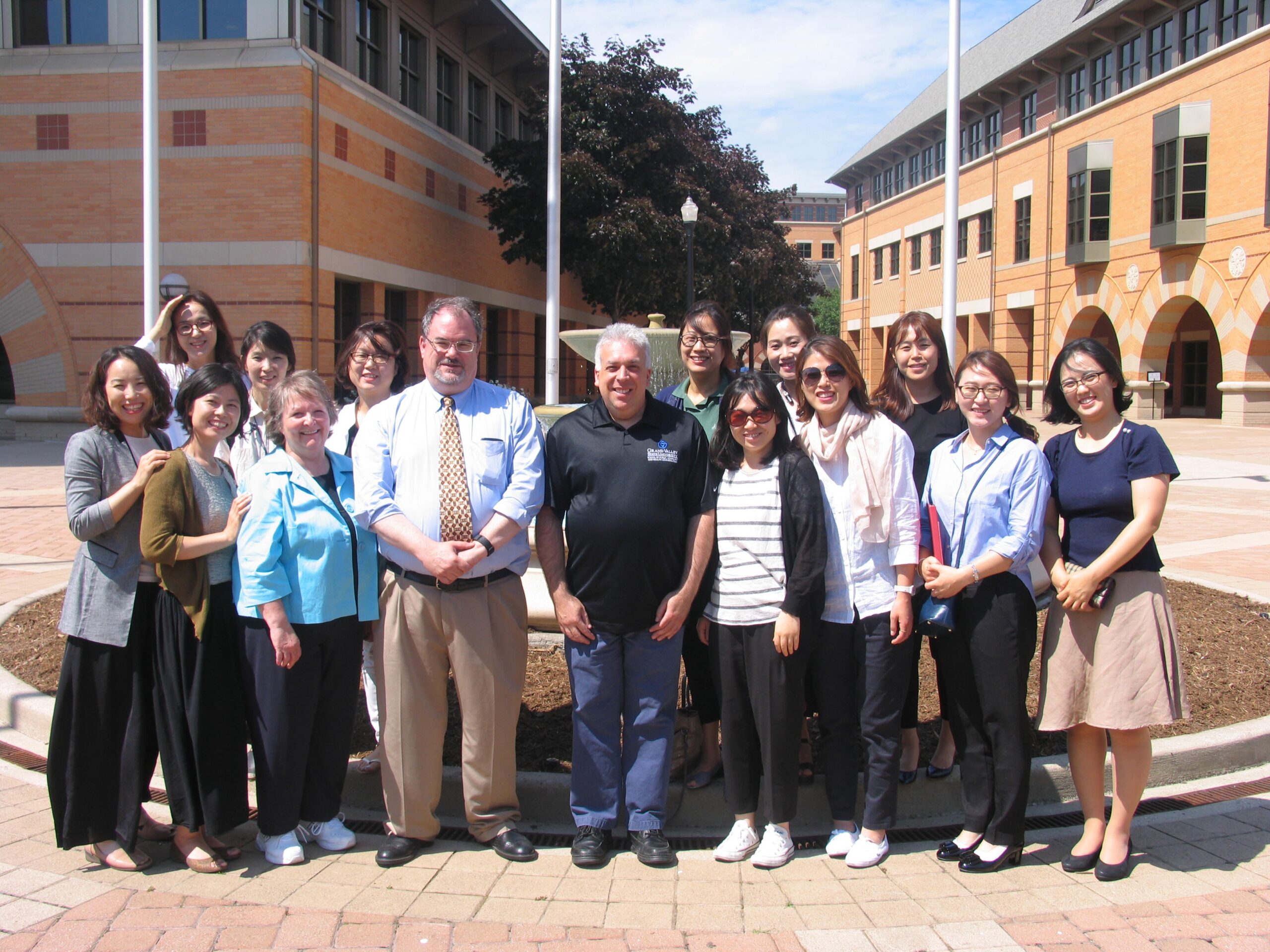 Grand Valley State University
Grand Rapids, Michigan
Special screening for the representatives from South Korea's Beautiful Foundation
June 22, 2016
Attendance: 13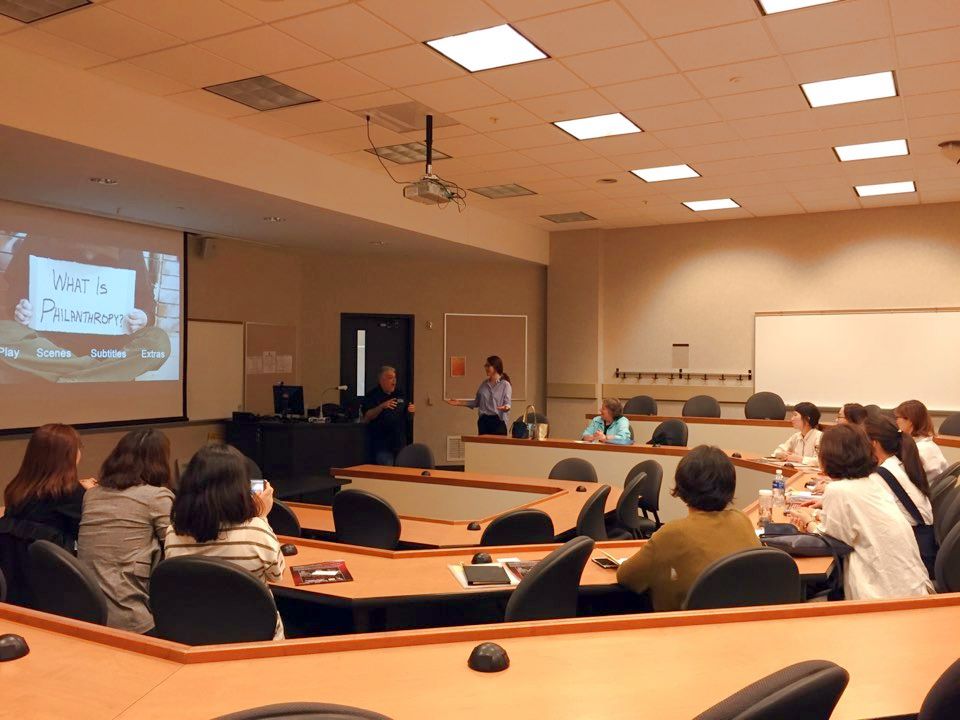 Grand Valley State University
Grand Rapids, Michigan
Special screening for the representatives from South Korea's Beautiful Foundation
June 22, 2016
Attendance: 13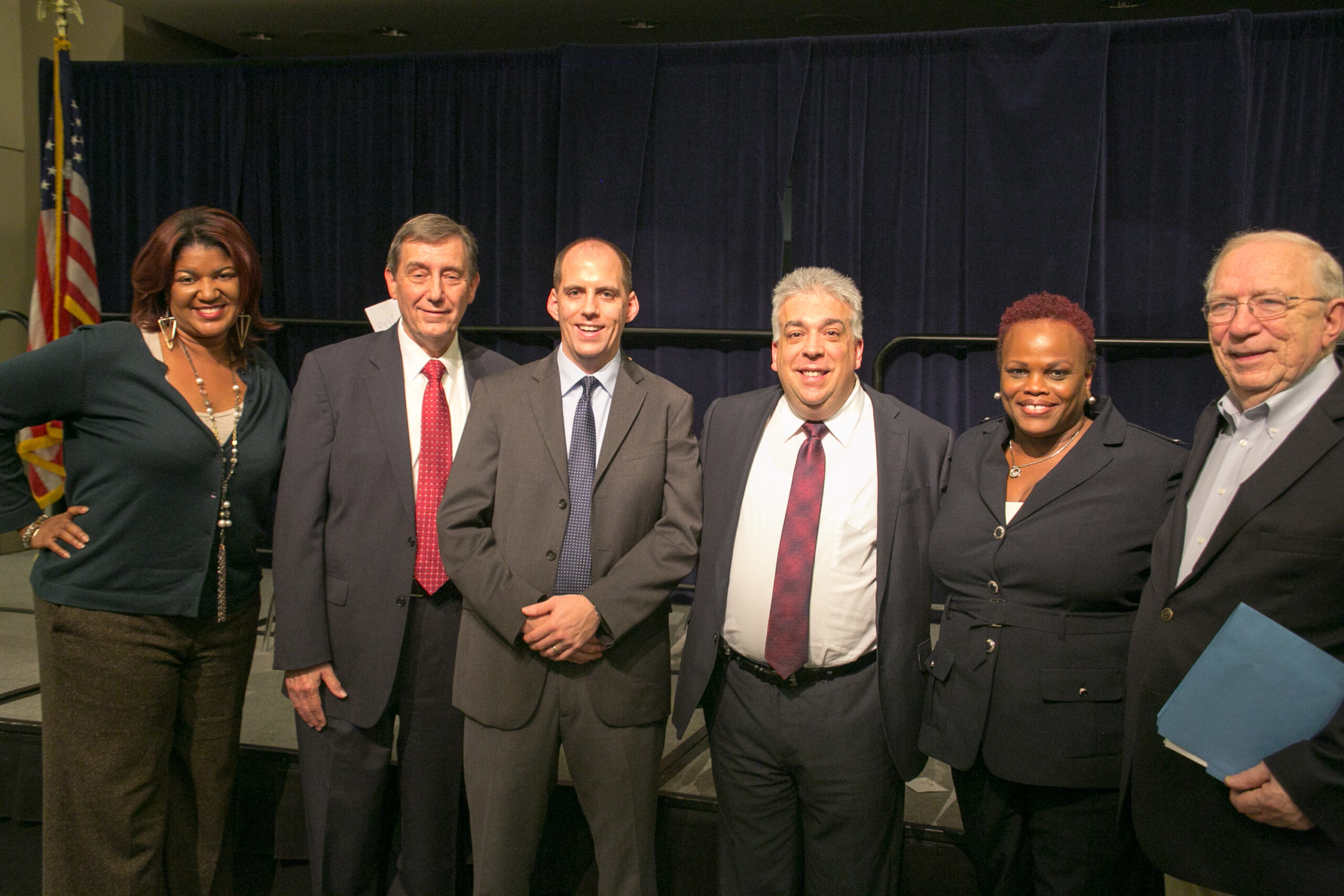 Loudermilk Center
Atlanta, Georgia
November 3, 2015
Attendance: 115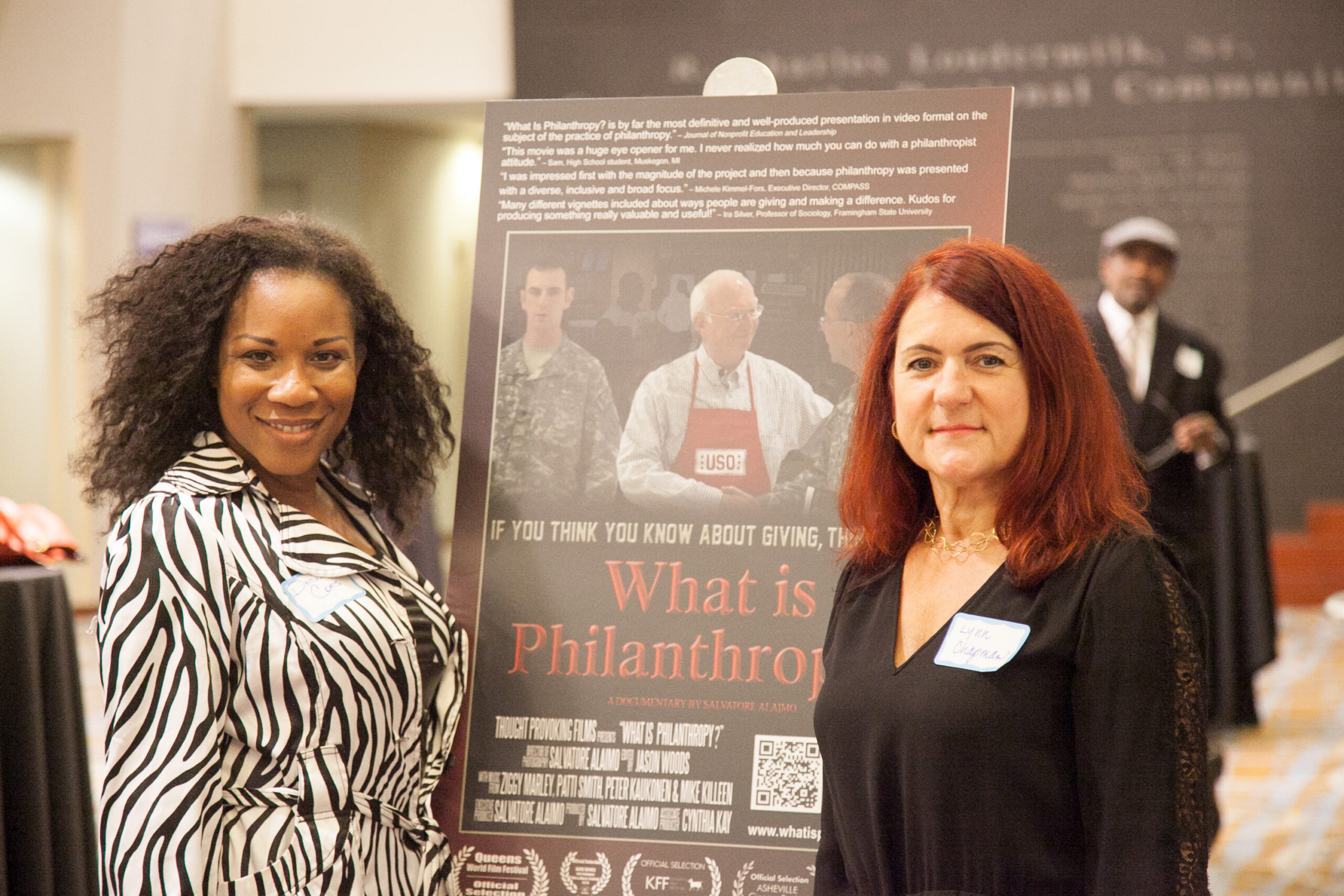 Loudermilk Center
Atlanta, Georgia
November 3, 2015
Attendance: 115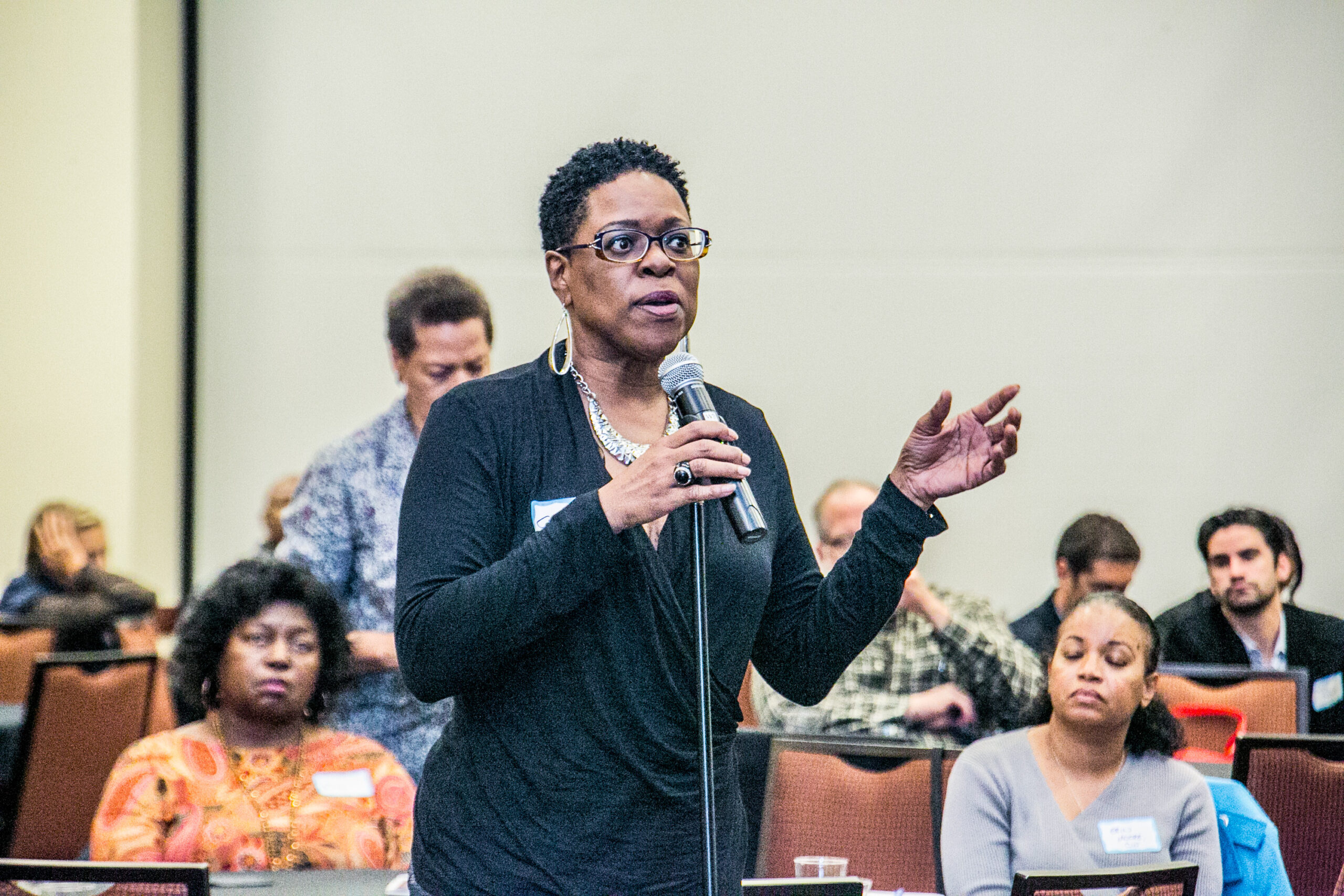 Loudermilk Center
Atlanta, Georgia
November 3, 2015
Attendance: 115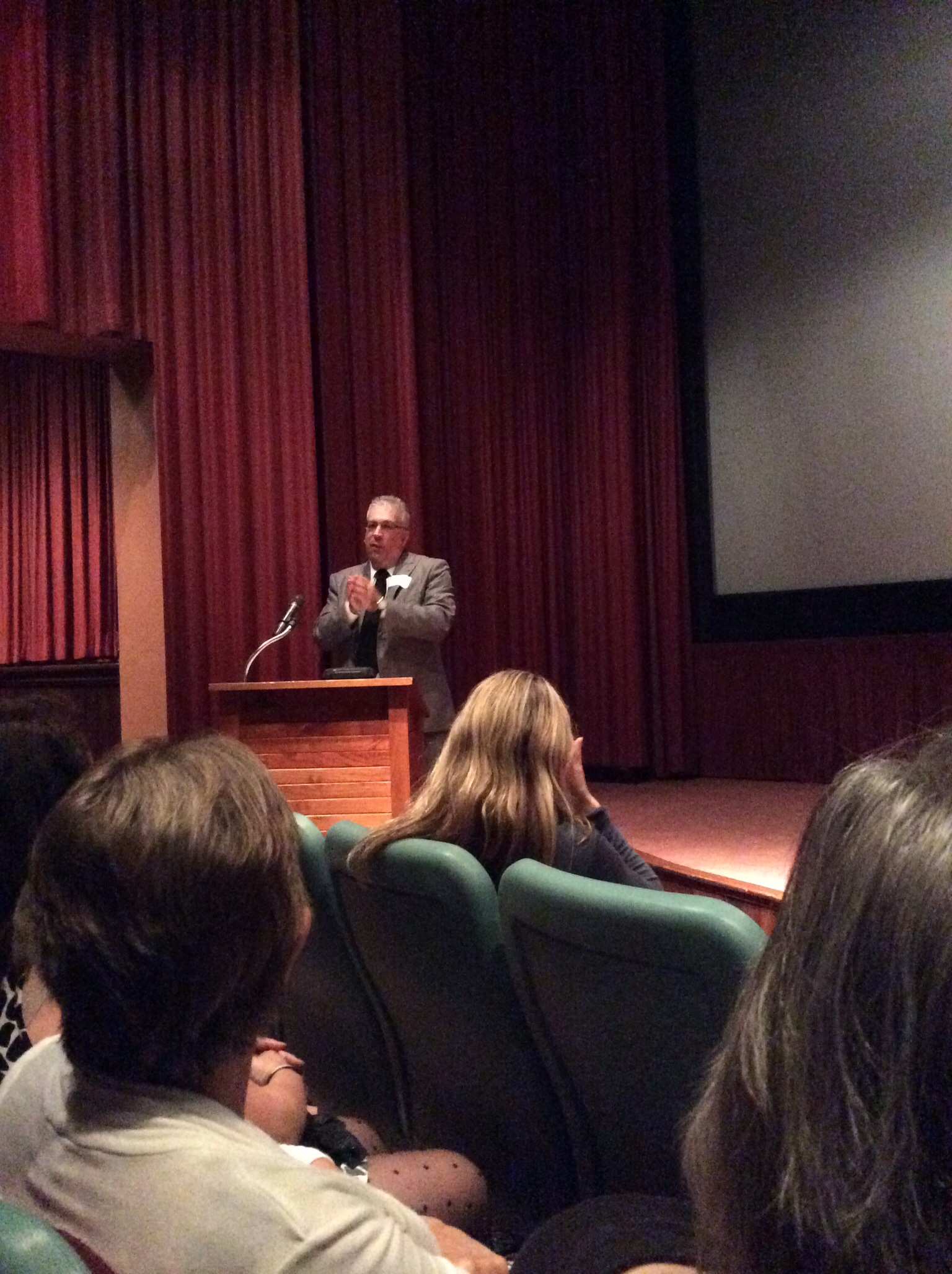 Delancey Street Foundation
San Francisco, California
Hosted by University of San Francisco
October 3, 2014
Attendance: 102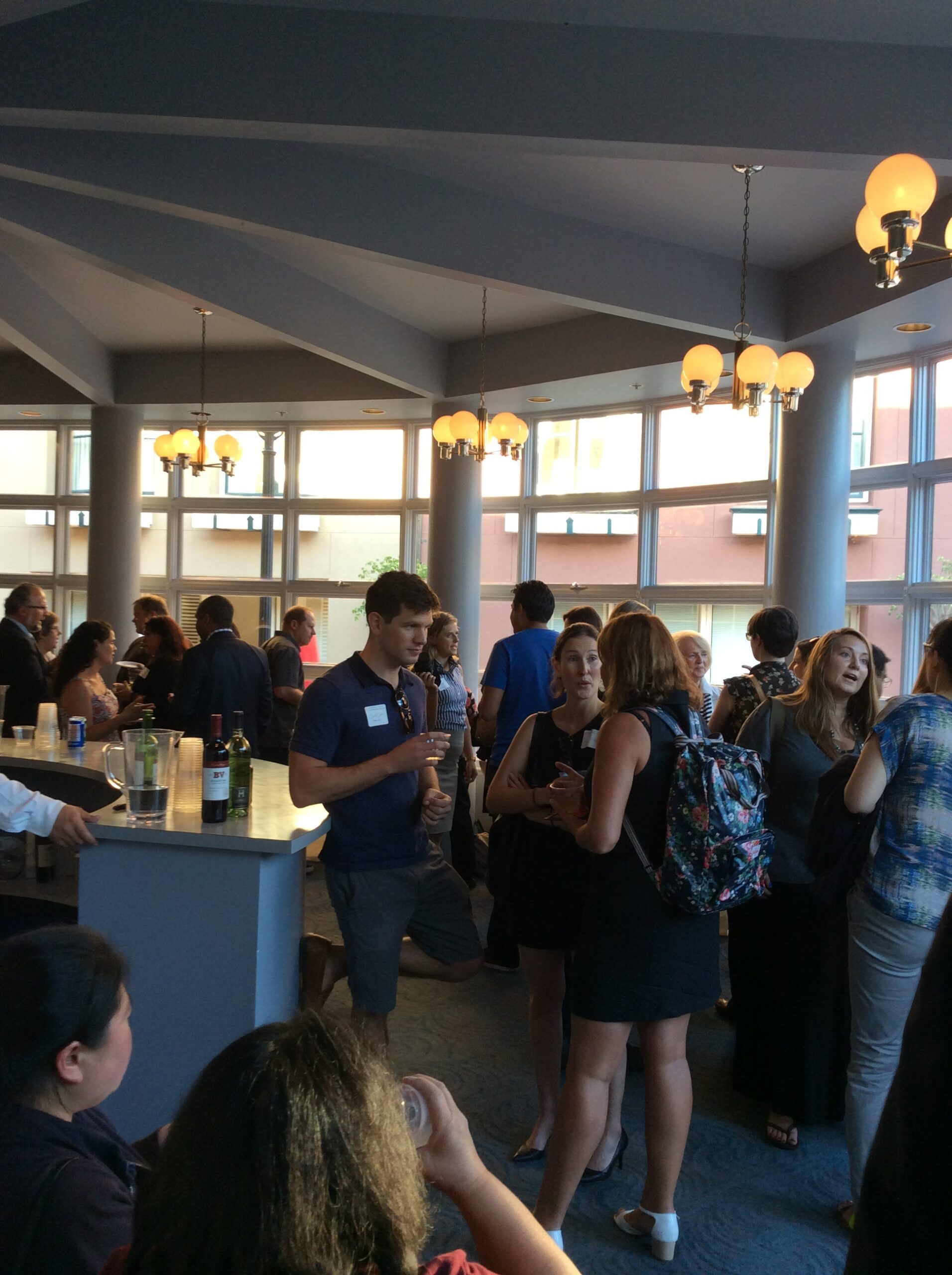 Delancey Street Foundation
San Francisco, California
Hosted by University of San Francisco
October 3, 2014
Attendance: 102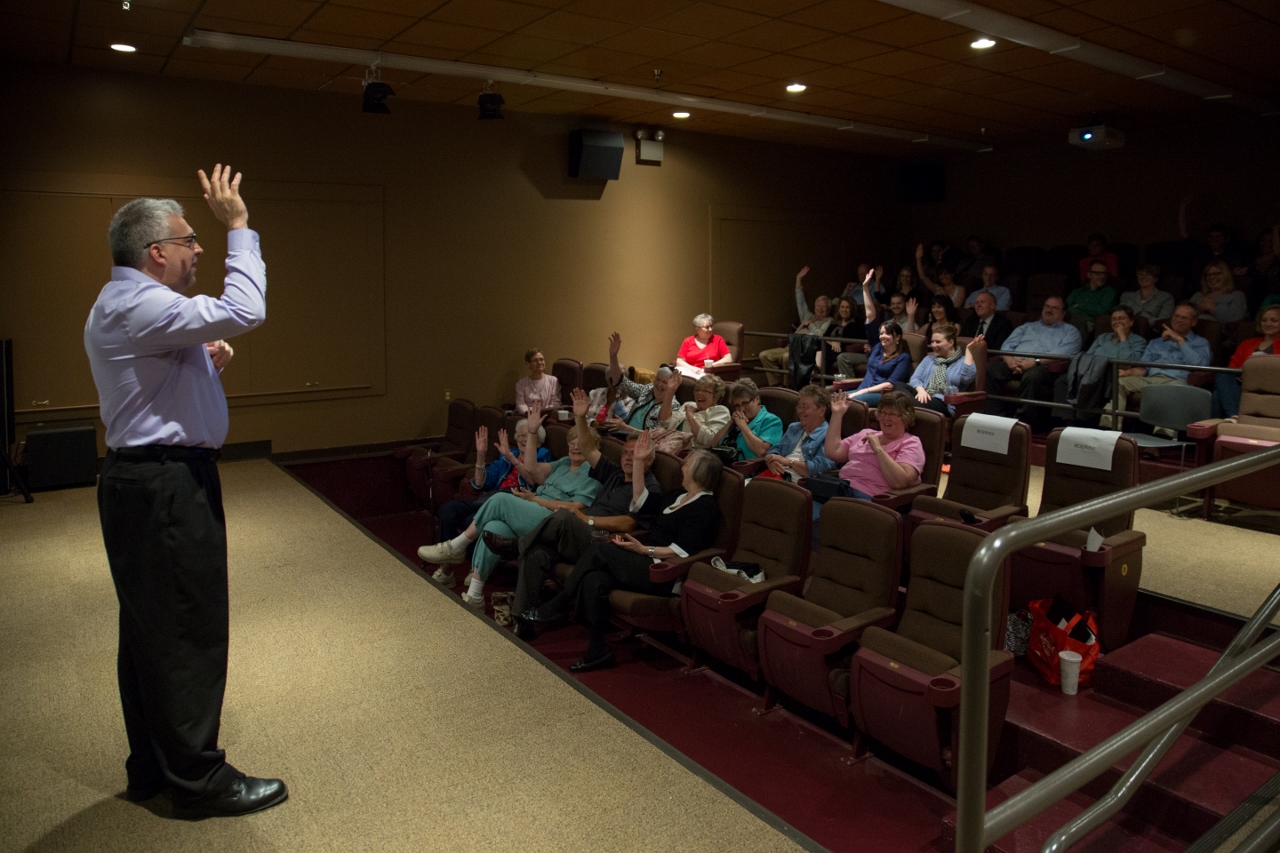 Koning Micro Cinema at Wealthy Theatre
Grand Rapids, Michigan
June 11, 2014, Attendance: 42
June 12, 2014, Attendance: 38
June 14, 2014, Attendance: 30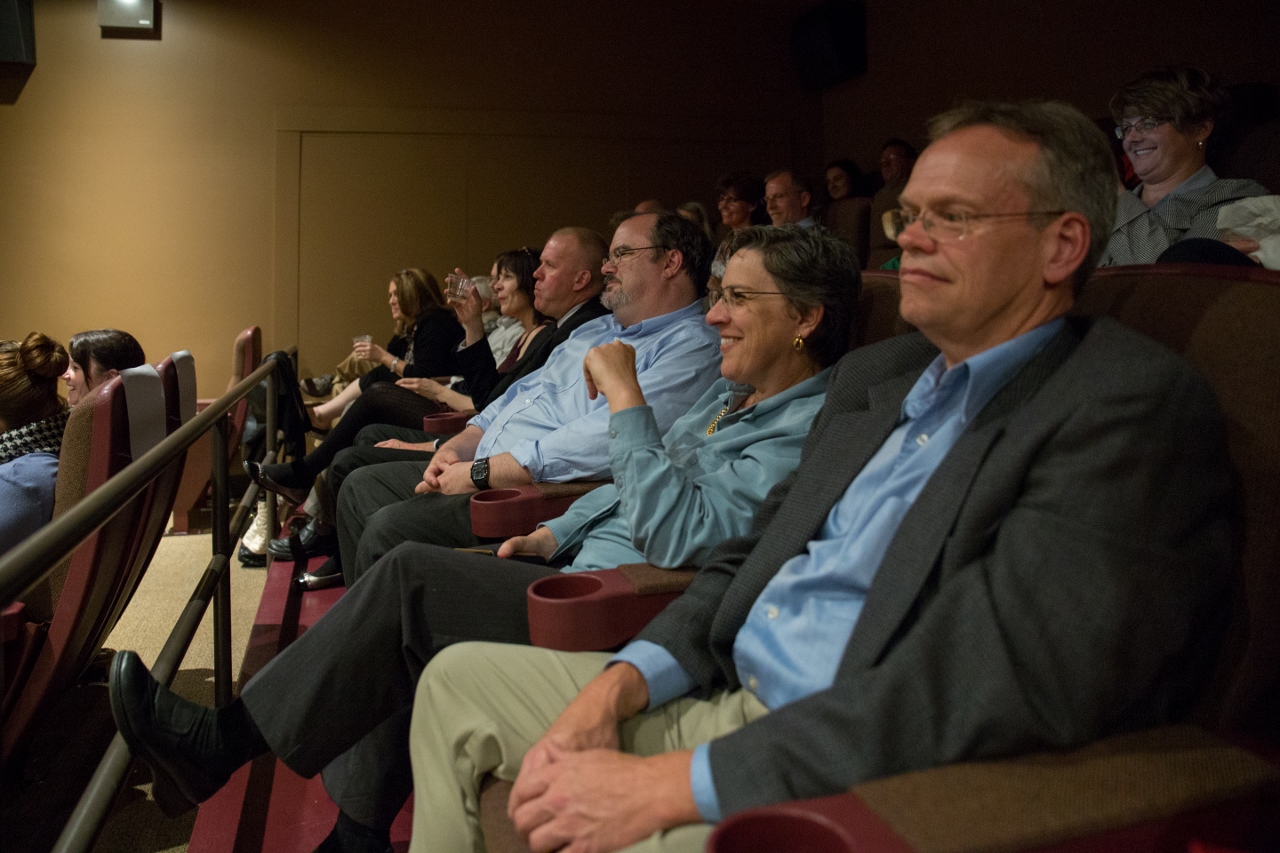 Koning Micro Cinema at Wealthy Theatre
Grand Rapids, Michigan
June 11, 2014, Attendance: 42
June 12, 2014, Attendance: 38
June 14, 2014, Attendance: 30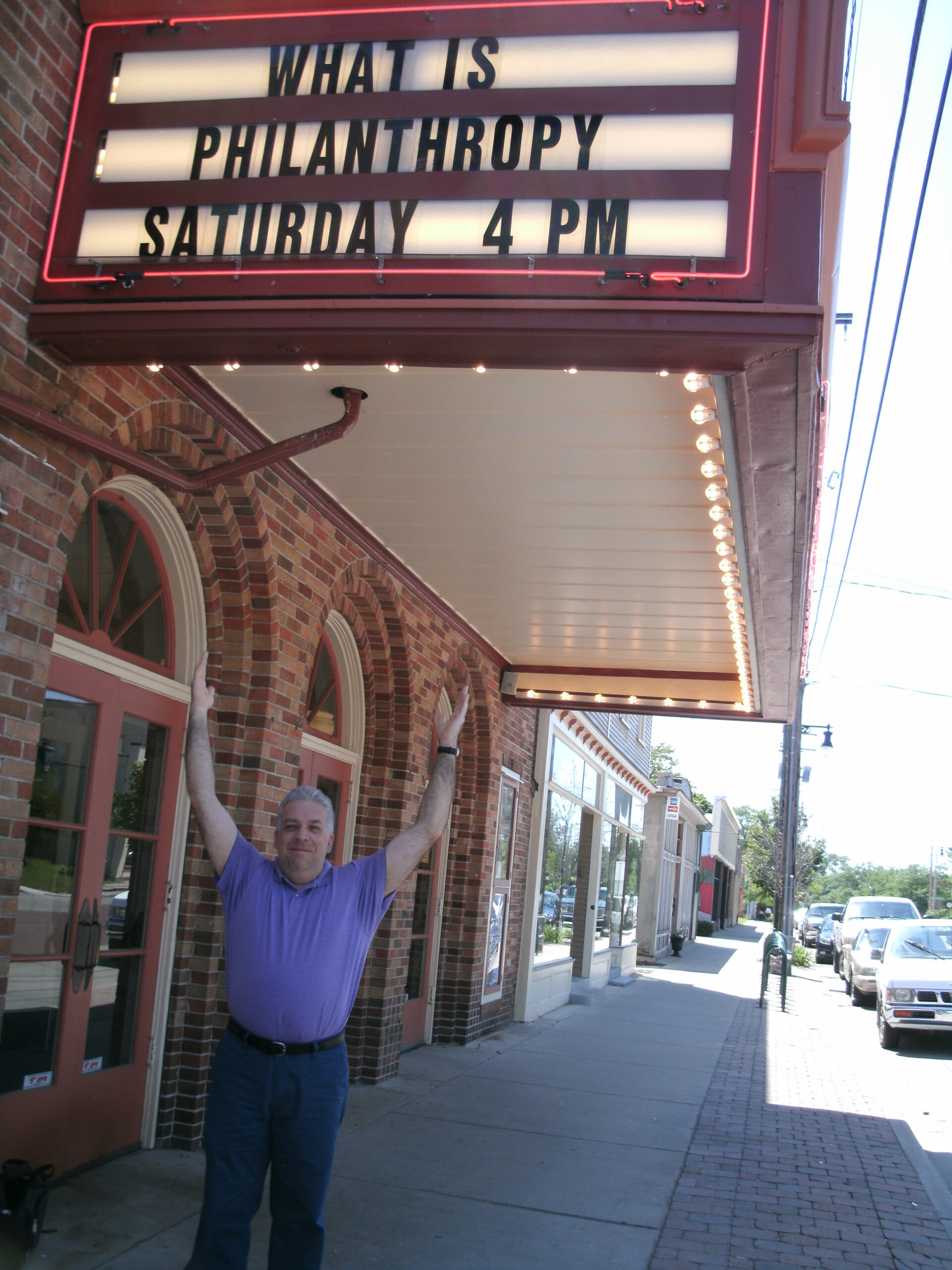 Koning Micro Cinema at Wealthy Theatre
Grand Rapids, Michigan
June 11, 2014, Attendance: 42
June 12, 2014, Attendance: 38
June 14, 2014, Attendance: 30
Other Past Screenings
| | | | |
| --- | --- | --- | --- |
| DATE | VENUE | LOCATION | ATTENDANCE |
| 10/3/19 | California Lutheran University | Thousand Oaks, CA | 10 |
|  3/27/19 | Trine University | Angola, IN | 91 |
| 10/13/18 | Beacon Hill at Eastgate | Grand Rapids, MI | 32 |
| 6/4/18 | University of Wisconsin-Milwaukee | Milwaukee, WI | 20 |
| 5/12/18 | Beijing Normal University-Zuhai | Zuhai, China | 24 |
| 11/27/17 | University of Pennsylvania | Philadelphia, PA | 28 |
| 8/25/17 | Lincoln Square Retirement Living | Grand Rapids, MI | 10 |
| 7/7/17 | Foundation Center | Washington, DC | 7 |
| 6/8/17 | Sow Hope | Grand Rapids, MI | 6 |
| 3/30/17 | Grand Valley State University | Allendale, MI | 39 |
| 1/23/17 | Women's City Club of Grand Rapids | Grand Rapids, MI | 20 |
| 4/25/16 | Rice University | Houston, TX | 42 |
| 2/29/16 | Oakland University | Rochester, MI | 32 |
| 1/8/16 | Aquinas College | Grand Rapids, MI | 25 |
| 12/1/15 | Ferris State University | Big Rapids, MI | 32 |
| 11/17/15 | Johnson Center for Philanthropy | Grand Rapids, MI | 42 |
| 11/3/15 | Loudermilk Center | Atlanta, GA | 115 |
| 11/12/15 | Albion District Library | Albion, MI | 4 |
| 11/10/15 | Saugatuck-Douglas District Library | Douglas, MI | 6 |
| 10/27/15 | Central Michigan University | Mt. Pleasant, MI | 42 |
| 6/29/15 | Hope College | Holland, MI | 20 |
| 2/7/15 | Harbor Cinema | Muskegon, MI | 21 |
| 12/1/14 | Hackley Library | Muskegon, MI | 23 |
| 11/20/14 | ARNOVA Conference | Denver, CO | 22 |
| 11/17/14 | North Park University | Chicago, IL | 13 |
| 11/14/14 | Grand Valley State University | Grand Rapids, MI | 13 |
| 11/10/14 | Bay Path University | Longmeadow, MA | 42 |
| 10/27/14 | Herrick District Library | Holland, MI | 9 |
| 10/17/14 | Dogwood Center for Performing Arts | Fremont, MI | 30 |
| 9/29/14 | Grand Valley State University | Allendale, MI | 85 |
| 5/5/14 | Westwood Public Library | Westwood, NJ | 23 |